Related Post: SEA ME – Sea Algae Yarn / Spider Silk / Siberian Birchbark Trim
The Ultra III BLOOM, the world's first shoe made using Algae removed from waterways from around the World. Developed in collaboration with BLOOM Foam, an eco-crusading team based in Mississippi who define themselves as "the world's first plant-based, high-performance solution to synthetic and petroleum-based flexible foams." Every pair helps to re-circulate 57 gallons of filtered water back into natural habitats and prevents the equivalent of 40 balloons full of CO2 being released into the Earth's atmosphere. The BLOOM Foam is created by harvesting algal biomass from freshwater sources at high risk of algal bloom.
BLOOM's algae-blended resin is an environmentally conscious, high performance replacement for traditional petroleum-based EVAs so you can enjoy supreme comfort and truly conscious style all at the same time.
BLOOM began when Ryan Hunt began researching algae technology as a way to solve emerging problems with pollution in our environment. He believed that algae could be used to help remove the harmful levels of phosphorus and ammonia present in industrial and agricultural waste-water that is causing ecologically harmful algae blooms and water quality issues.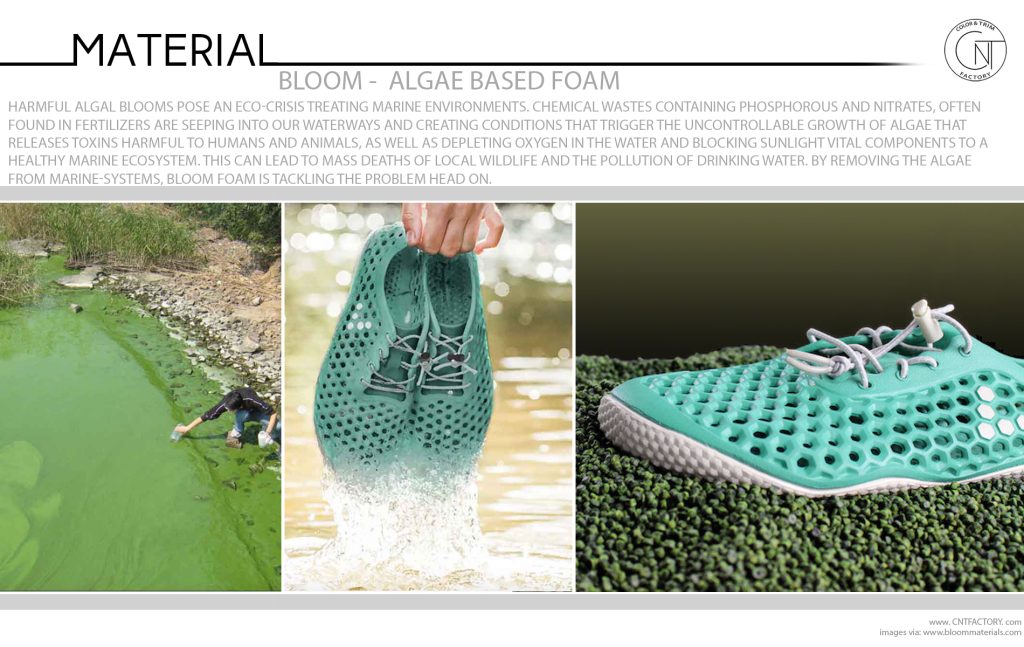 Harmful Algal blooms pose an eco-crisis treating marine environments. Chemical wastes containing phosphorous and nitrates, often found in fertilizers are seeping into our waterways and creating conditions that trigger the uncontrollable growth of Algae that releases toxins harmful to humans and animals, as well as depleting oxygen in the water and blocking sunlight vital components to a healthy marine ecosystem. This can lead to mass deaths of local wildlife and the pollution of drinking water. By removing the Algae from marine-systems, BLOOM Foam is tackling the problem head on.
BLOOM's algae technology checks all the boxes for those who want to see innovation, longevity and everyday comfort on a level playing field. BLOOM based shoes restores up to 80 liters of filtered water right back into the ecosystem. That's equivalent to 3 months of water consumption for one person. The same manufacturing process sequesters CO2 and purifies 50 cubic meters (50m3) of air for a cleaner, healthier ecosystem. Rise by Bloom is another stream in the right direction to lessen the introduction of virgin materials into consumer goods.
BLOOM has made other products including foam pads for surfboards and wants to expand into as many product categories as possible.
Algae thrives in warm water with high carbon concentrations and as climate change heats up the planet via emissions, more and more lakes are having problems with algae blooms, especially in areas where industrial runoff from agriculture occurs. Every product containing BLOOM helps clean polluted water and captures carbon to lower the product's environmental footprint.