Related Post: Sea Me – Sea Algae Yarn / Sustainable Ocean Materials / Zebra Glass
Studio Lionne van Deursen experiments with a grown biological material. This grown material is made of bacterial cellulose and is created by bacteria and yeast in a fermentation process. During the growing process nuances arise in the material which influence the translucency of the dried material.
UNFOLD is a material research that explores the versatility of a material created by living microorganisms. This biofilm composed of bacterial cellulose, becomes a solid material when dried. It's biodegradable, strong, has a high flexibility and can easily be shaped and folded in any desired shape.
UNFOLD project explores the possibilities to create relief surfaces and three-dimensional objects with the sheet material. By using a simple folding technique, complex structures can be created. The folded sheet can expand and contract and made into more dynamic objects.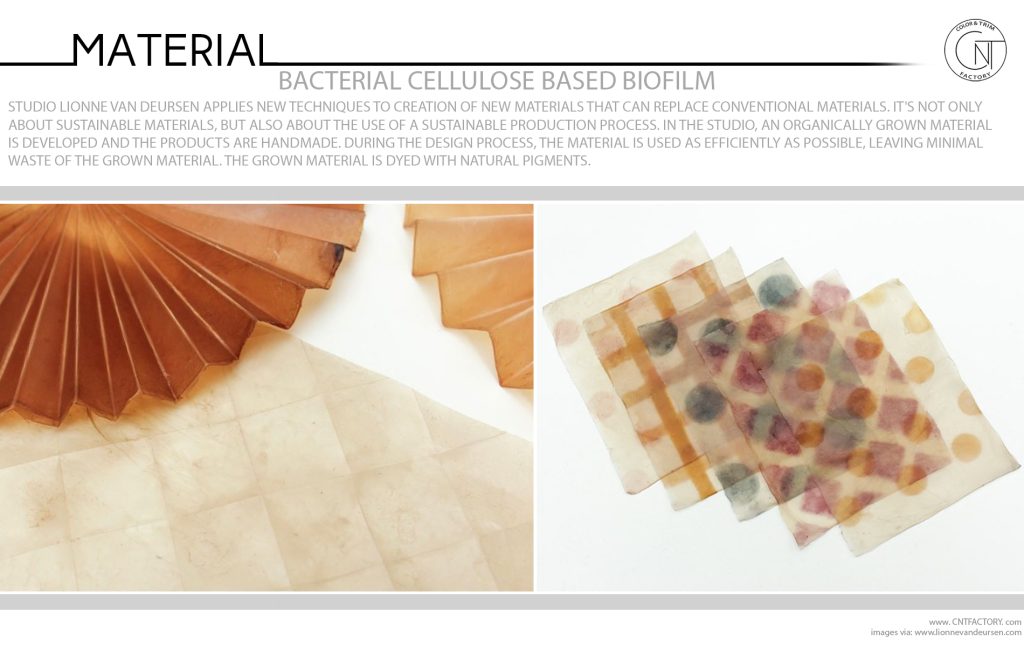 Studio Lionne van Deursen applies new techniques to creation of new materials that can replace conventional materials. It's not only about sustainable materials, but also about the use of a sustainable production process. In the studio, an organically grown material is developed and the products are handmade. During the design process, the material is used as efficiently as possible, leaving minimal waste of the grown material. The grown material is dyed with natural pigments.