Related Post: 3D Woolen Felt / Deconstructed Felt By Patcraft
Louis Vuitton and the late Virgil Abloh, the luxury brand's men's artistic director, unveiled the new "Felt Line" which first made its debut during the house's Fall/Winter 2021 show last year. It features three iconic leather good pieces and reflects the legendary house's ground-breaking approach to circular creativity.
Designed using several eco-responsible materials: organic cotton and recycled wool-based jacquard, lining used from 100% recycled polyester derived from existing stocks, straps and handles in Leather Working Group-certified leather. LV sustainability label stitched to the side, marking the Maison's move to eco-friendly practices.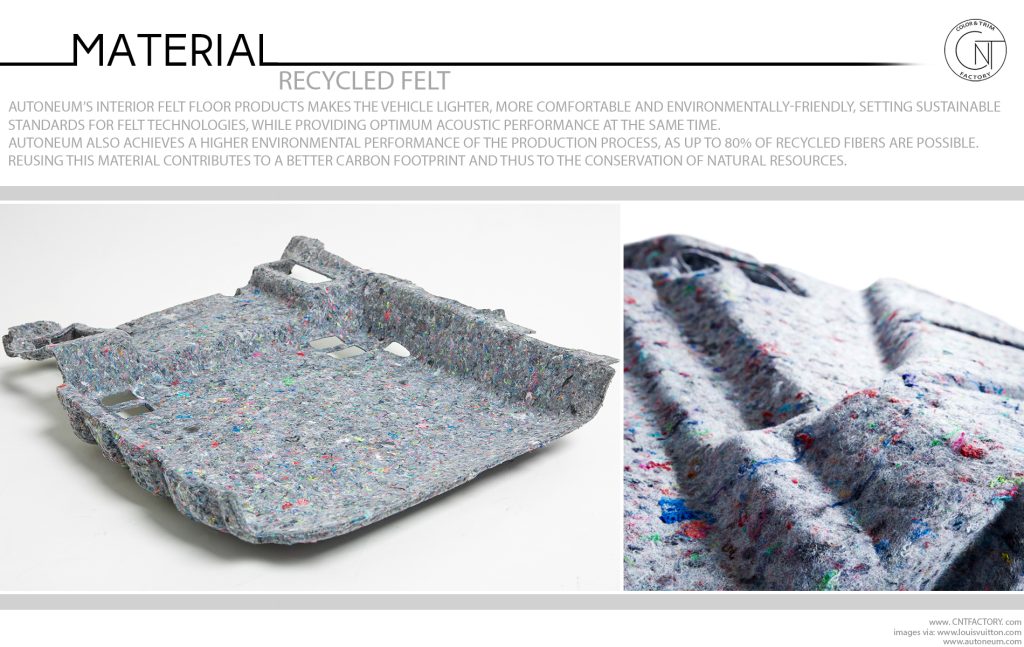 Autoneum's interior felt floor products makes the vehicle lighter, more comfortable and environmentally-friendly, setting sustainable standards for felt technologies, while providing optimum acoustic performance at the same time.
Autoneum also achieves a higher environmental performance of the production process, as up to 80% of recycled fibers are possible. Reusing this material contributes to a better carbon footprint and thus to the conservation of natural resources.
Abloh was inspired by moving blankets, functional, protective, and on-the-go, for this spin on Louis Vuitton classics. It falls perfectly in line with the sustainability dedication he has shown since joining Louis Vuitton in 2018.
At Louis Vuitton, the sustainable development policy has been in place for 15 years. By 2025, the house is committed to reaching the goal of using 100% responsibly sourced raw materials and 100% participation in an eco-design process for all products. Detailed in a Monogram pattern in a lurex thread tufting, it gives the impression of disappearing and reappearing across the bag.