Related Post: Spider Silk / Mylo Leather
LOVR is the first truly vegan leather alternative. It may be generated carbon neutrally and is derived from agricultural waste. without the use of any plastic or hazardous chemicals.
Montgomery Wagner, Lucas Fuhrmann, and Julian Mushövel, three childhood friends who founded LOVR in 2021, chose to pool their specialized skills in order to develop a genuine sustainable leather substitute.
By allowing each material to be used in cyclical cycles, the concept of a circular economy offers an alternative to the notion of waste. LOVR is based on circularity, alternative to leather that is completely plastic-free, recyclable and biodegradable.
LOVR is made from agricultural residues. It is a 100% plant-based and completely plastic-free leather alternative, no fossil fuels, no plastic, and no harmful chemicals. The journey of LOVR starts on a field, more specifically with a hemp plant. It is grown for CBD products. LOVR uses the crop waste as the base for material. Their trusted agricultural partners supply them with their by-products.
This is how LOVR promotes a transparent, regional, and sustainable circular economy. Free from global supply chains, and full of appreciation for people, materials and nature.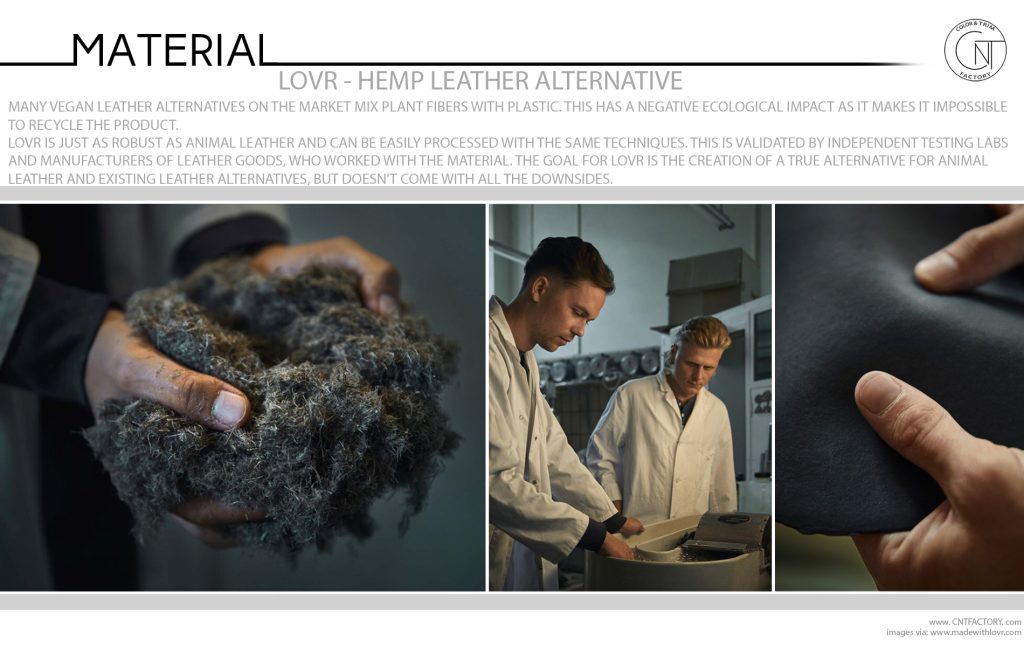 Many vegan leather alternatives on the market mix plant fibers with plastic. This has a negative ecological impact as it makes it impossible to recycle the product.
LOVR is just as robust as animal leather and can be easily processed with the same techniques. This is validated by independent testing labs and manufacturers of leather goods, who worked with the material. The goal for LOVR is the creation of a true alternative for animal leather and existing leather alternatives, but doesn't come with all the downsides.