Related Post: Maison & Objet Paris
Silicone molds have been processed by Reichle Technologiezentrum and Starlim in such a way that more than just digital watermarks can be replicated in the component. The shimmering holograms and a specially designed sliding structure at the corners of the 120 x 160 mm and 2.7 mm thick silicone pattern plate are its distinctive highlights. The plate is available in pale green, brown, or black. Because of the characteristics of silicone, fingerprints either do not adhere to the surface or just very marginally, meaning that even after being touched, holograms keep all of their iridescent colors.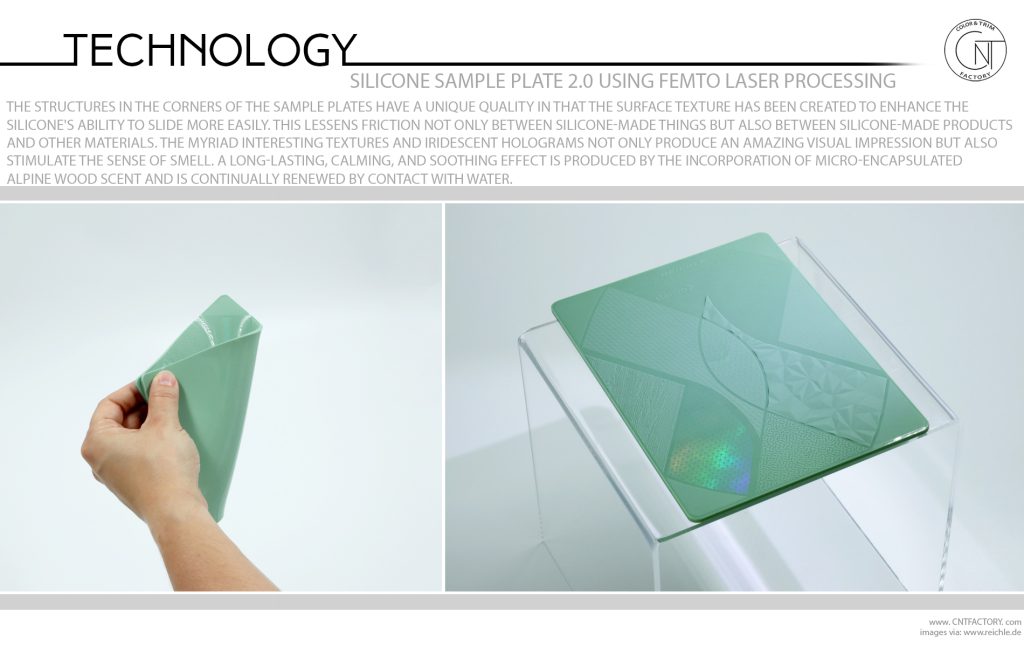 The structures in the corners of the sample plates have a unique quality in that the surface texture has been created to enhance the silicone's ability to slide more easily. This lessens friction not only between silicone-made things but also between silicone-made products and other materials.
The myriad interesting textures and iridescent holograms not only produce an amazing visual impression but also stimulate the sense of smell. A long-lasting, calming, and soothing effect is produced by the incorporation of micro-encapsulated alpine wood scent and is continually renewed by contact with water.
Interior design's main objective is now much more of a balance between enjoyment and functionality.
Reichle Technologiezentrum GmbH, Lightworks GmbH, and Mankiewicz accomplish this by combining surface design, lasered 3D texture, light, and coating systems to create a user experience that not only impresses with its design and functionality but also completely redefines the idea of ambient lighting. More particularly, the combination of the several specialties allowed for the illumination of 3D-textured surfaces, which are only visible at night and cannot be seen in the daylight. Designing the plastic component to be lighted produces this effect.