Related Post: High Definition 3D Design / 3D Printed Titanium / Woven Details
Recently a handful of companies, such as SpaceX, Blue Origin by Amazon and Virgin Galactic have shown their design proposals for interior cabins to house somewhere from 4 to 9 passengers onboard.
Unlike the crammed utilitarian experience of previous and current space missions these designs clearly intent to cater to a private consumer expectation, namely that of a customer experience called space tourism.
The Blue Origin feather is a symbol of the perfection of flight. It represents freedom, exploration, mobility and progress. For thousands of years, we humans have been looking up at the birds and wondering what it would be like to fly. Now, we look up to the stars and pursue a bright future for all of us.
True operational reusability is the only way to lower the cost of access to space. Both New Shepard and New Glenn have been designed with reusability in mind from the beginning – not as an afterthought.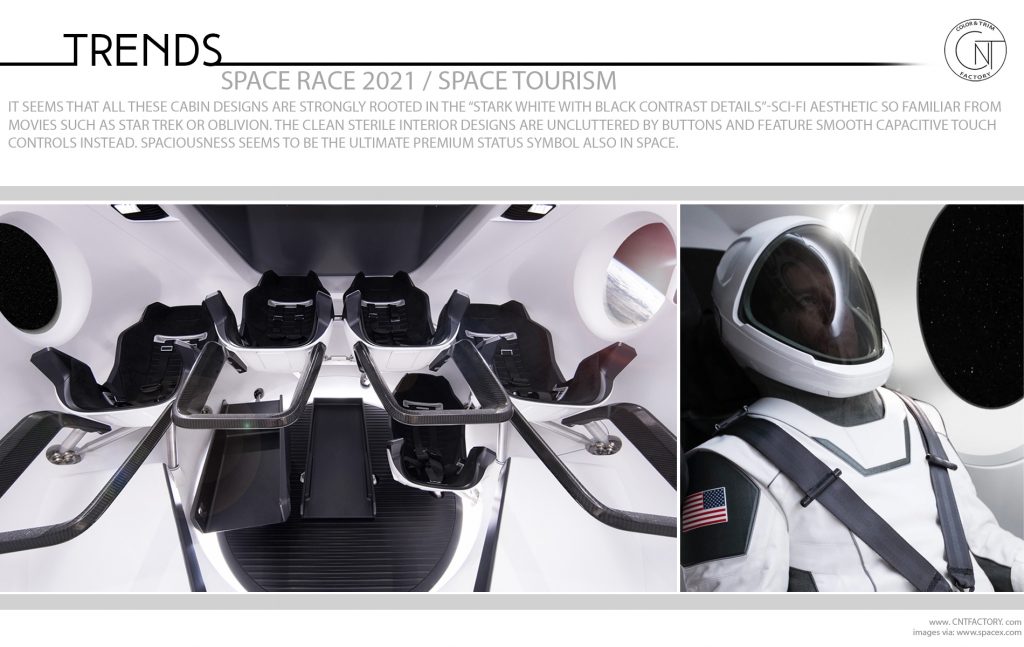 t seems that all these cabin designs are strongly rooted in the "stark white with black contrast details"-sci-fi aesthetic so familiar from movies such as Star Trek or Oblivion.
The clean sterile interior designs are uncluttered by buttons and feature smooth capacitive touch controls instead. Spaciousness seems to be the ultimate premium status symbol also in space.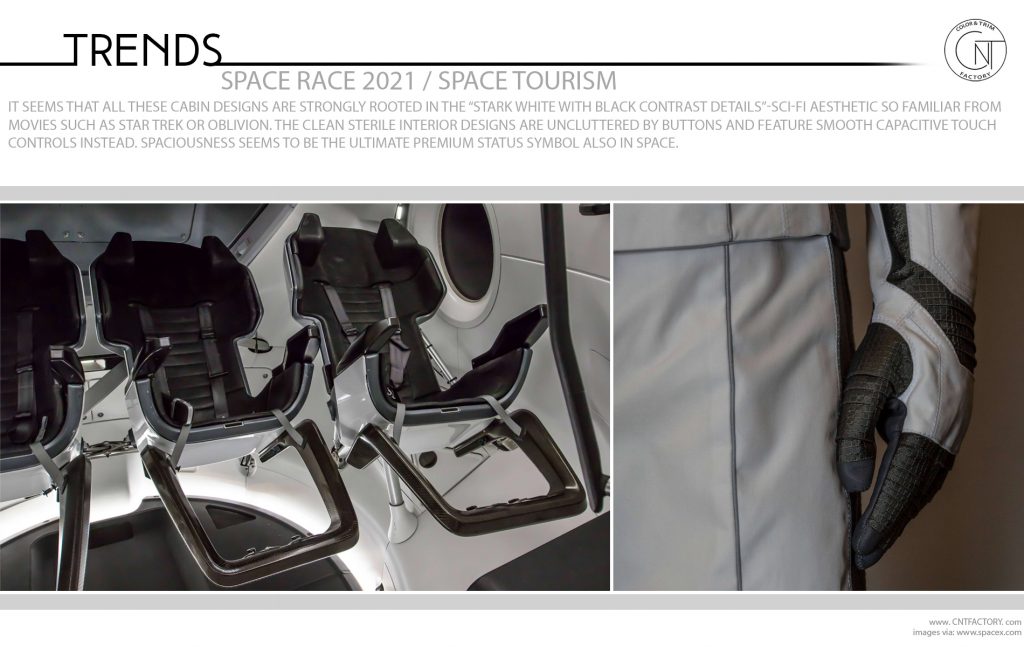 The SpaceX spacesuits were custom-made for the astronauts. The gloves were designed to work with the spacecraft touchscreens, and the spacesuits were made to plug into seat umbilicals carrying oxygen and cool air from the spacecraft.
If it looks like the spacesuit is built for a movie set, that could be because the suit designer is legendary Hollywood costume designer Jose Fernandez, who is known for costumes in blockbusters such as "Wonder Woman," "Wolverine," "Batman vs. Superman" and "Captain America: Civil War."
The helmets are 3D-printed and the gloves are touchscreen-sensitive. But their primary purpose remains the same – to protect crew members from depressurization, where air is lost from the capsule. The suits also ensure astronauts have sufficient oxygen and regulate their temperature. A communications link and breathable air are provided via a single "umbilical" cable in the seat that plugs in to the suit.
The seats are mounted off-floor with ultra-thin structures to further bring home the high-tech character of lightweight, supported by cutting edge technologies such as 3D printed components, 3D fabrics and ultra durable webbing designed for example by athleisure company Under Armor for Virgin Galactic.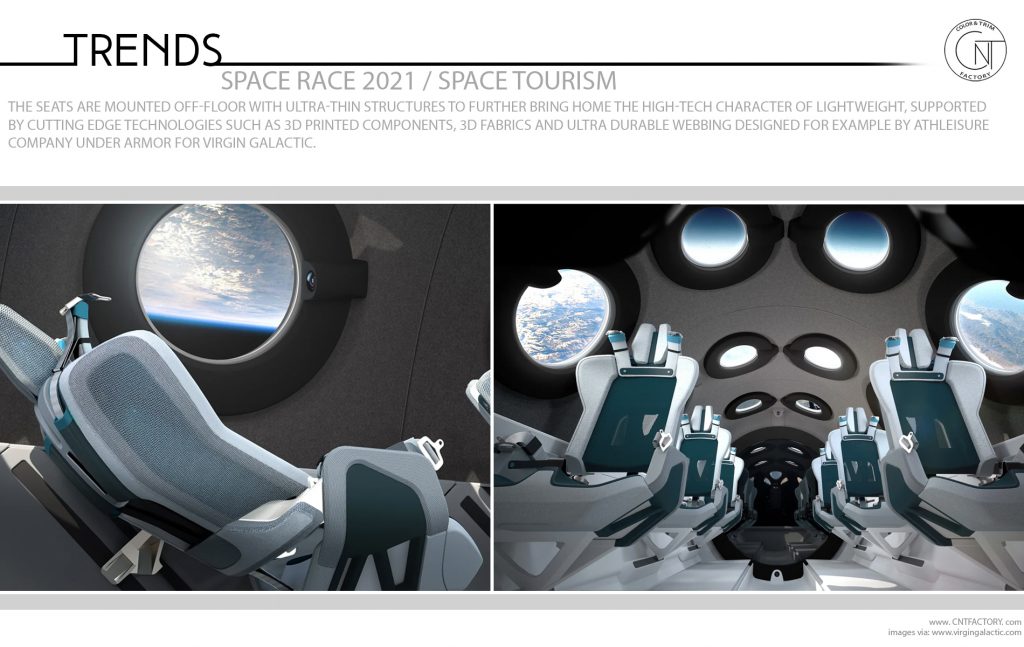 Under Armour leaned into the brand's DNA of innovation to make the physically taxing elements of space travel more comfortable for astronauts journeying back to Earth through the development of a 3D knit. The 3D knit construction is mapped with openness and breathability, and knit into the fabric encasing every cabin seat. During flight, the cabin seats move to accommodate G-forces. In order to provide functional support and cushioning, the design must securely 'lock' passengers in place, while simultaneously providing the seat mobility without obstruction.