Related Post: Recycled Plastic by Ecobirdy / Adidas and Parley for the Oceans / Recycled Material by Pentatonic
Nine out of 10 households in the UK have carpet installed on their floors, making carpet the favored flooring option. Only a small portion of the 400,000 tonnes of carpet trash produced annually in the UK is entirely recycled in a closed-loop system because carpet is a composite product that was never intended for disassembly. Unfortunately, the remaining waste is disposed of in landfills or incinerators. The tables created from carpet scraps gathered from neighborhood shops or discovered on London's streets. The objectives of this project are to increase environmental consciousness and show how a waste product can be changed into something worthwhile and useful once more.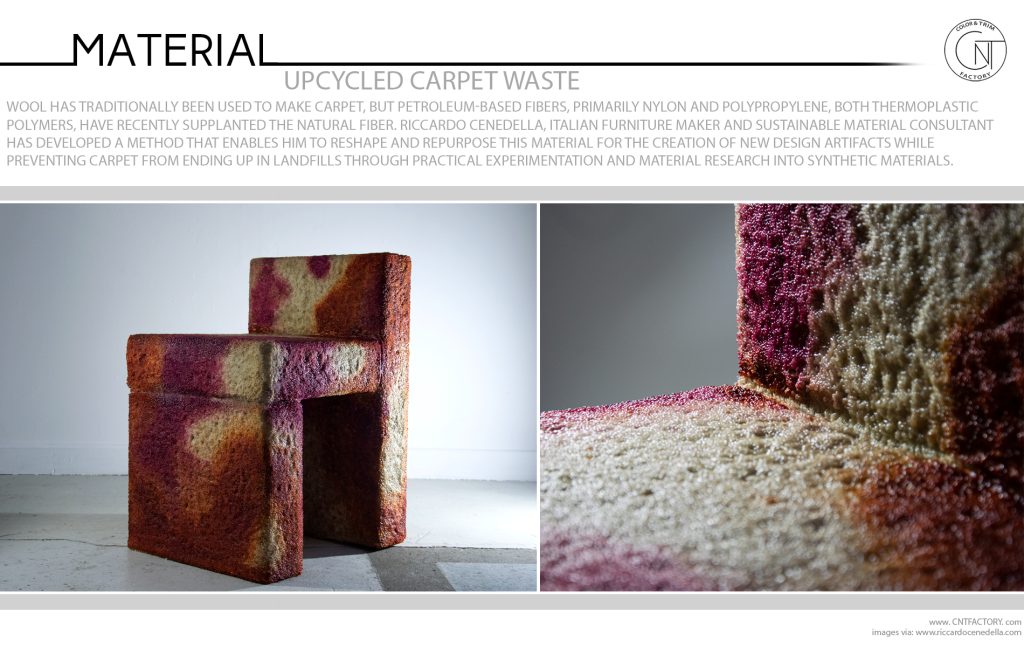 Wool has traditionally been used to make carpet, but petroleum-based fibers, primarily Nylon and Polypropylene, both thermoplastic polymers, have recently supplanted the natural fiber. Riccardo Cenedella, Italian furniture maker and sustainable material consultant has developed a method that enables him to reshape and repurpose this material for the creation of new design artifacts while preventing carpet from ending up in landfills through practical experimentation and material research into synthetic materials.