Related Post: Spider Silk / Mylo Leather / MIRUM® High Performance Plant Leather
Modern Meadow began with an R&D initiative to develop a sustainable alternative to leather. This led to breakthrough discovery of proteins as functional ingredients with the ability to impact a range of products across multiple industries. With the creation of proprietary Bio-F@rm™ and Bio-Alloy™ technology application platforms that embody unique capabilities to create functional protein free of, petrochemical and animal inputs and apply them in a wide range of high-performing, sustainable biofabricated materials and ingredients.
BioFabbrica is a groundbreaking joint venture partnership between Modern Meadow and world-renowned Italian textile and materials supplier, Limonta. By combining patented Bio-Alloy™ Application Platform with Limonta's creativity, heritage craftsmanship, and cutting-edge materials manufacturing processes, BioFabbrica delivers sustainable material solutions that meet brands' unique performance and design expectations. BioFabbrica is bringing to market Modern Meadow's technology material solutions across the full range of materials applications, including solutions in leather goods, footwear, interiors, transport, and apparel applications.
BIO-TEX™ is Modern Meadow's first Biofabricated Coated Textile.
Bio-Alloy™ technology enables creation of one-of-a-kind biofabricated materials. The first product application developed is Bio-Tex™, a coated textile that delivers superior color vibrance and performance while reducing GHG emissions by over 90% compared to traditional, chrome-tanned leather based on an LCA.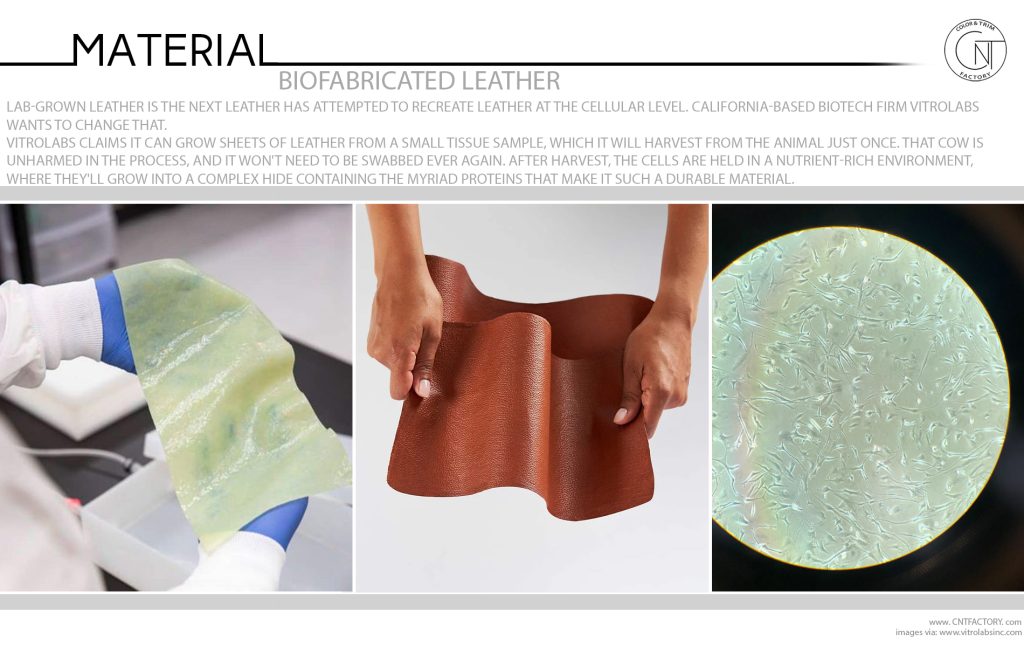 Lab-grown leather is the next leather has attempted to recreate leather at the cellular level. California-based biotech firm VitroLabs wants to change that.
VitroLabs claims it can grow sheets of leather from a small tissue sample, which it will harvest from the animal just once. That cow is unharmed in the process, and it won't need to be swabbed ever again. After harvest, the cells are held in a nutrient-rich environment, where they'll grow into a complex hide containing the myriad proteins that make it such a durable material.
With cellular process, just by donating a few cells, one cow can change the way real leather is made and help us live more in harmony with nature.
Cells know exactly what to do when provided the right environment. So we do just that. Through our specialized bioreactor, we provide the right signals and nutrients the cells need to grow into an animal hide. Instead of years of growth on an animal, our process takes just a few weeks.
Once the growth phase is complete, our hides can go directly into tanning, with no additional processing. Since our cells grow only what's needed, the tanning process is simplified, meaning a significant reduction in the environmental impact.