Related Post: Spider Silk / Mylo Leather
The footwear industry often overlooks Mother Nature's materials in favor of cheaper, synthetic alternatives. Allbirds took cues from nature to find A Lower Impact Leather. As much as 40x less carbon impact than traditional leather. 17x less carbon than synthetic leather made from plastics. Plant Leather is the sustainable and scalable leather alternative the planet needs. With an ingredients list made up of things like vegetable oil, natural rubber, and other natural bio-based ingredients, Plant Leather gives us the potential for as much as a 98% reduction in carbon emissions when compared to traditional leather. It's naturally pigmented and fully biodegradable, too, leaving a smaller footprint after its time is up.
Mirum is derived from the Latin word, miraculum, for miracle. Haverhals's team combines agricultural waste such as cork powder (the dust leftover from cork processing), coconut fiber (harvested from the outer husk), and rubber. The addition of what Haverhals describes as a salt-based "magic pixie dust" solution. The reaction glues the fibers together, creating a composite that uses zero synthetic materials.
MIRUM® is produced by Natural Fiber Welding, a company that is dedicated to shifting the materials industry from petroleum addiction and linear life-cycles to plant-based inputs and inherent circularity. MIRUM is the revolutionary material that can help humanity break it's dependence on nonrenewable fossil resources – particularly petroleum-based plastics.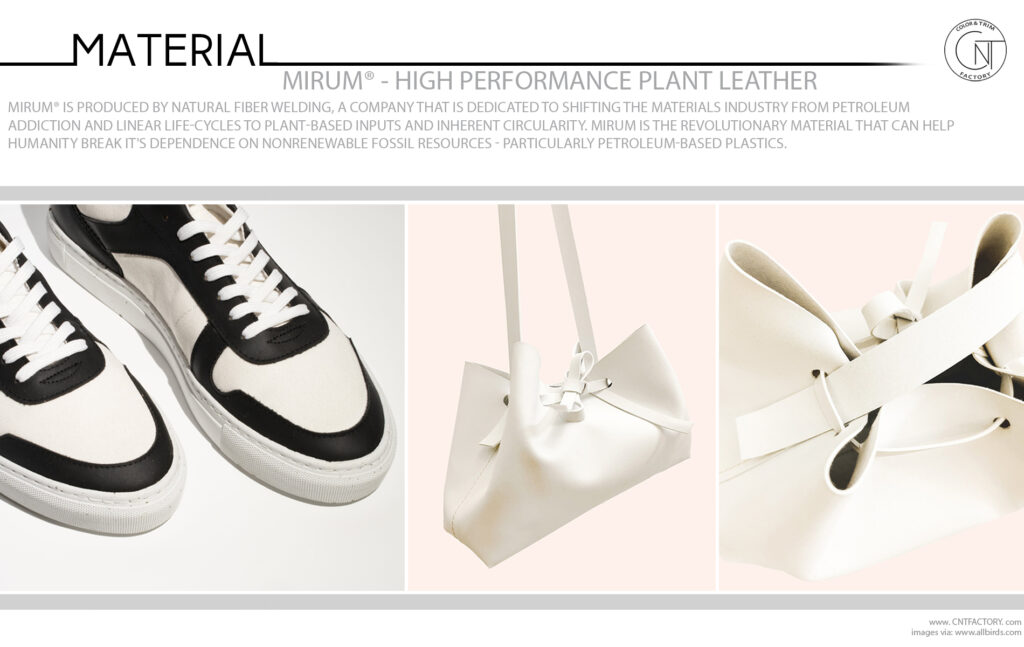 Patented MIRUM® is a revolutionary answer that the world has been looking for. The amazing diversity and abundance of plants – transformed into elegant, supple and highly tunable materials that are ready for the global stage.
Because MIRUM is made with all natural inputs, it is bio-neutral.
Because MIRUM uses no plastics – no PU, PVC or other synthetic binders – it is not a pollutant like many other "pleather" (plastic-containing) leathers.
Because MIRUM can be recycled directly back into new MIRUM, cutting scraps, dead stocks, and worn out products can be made new again.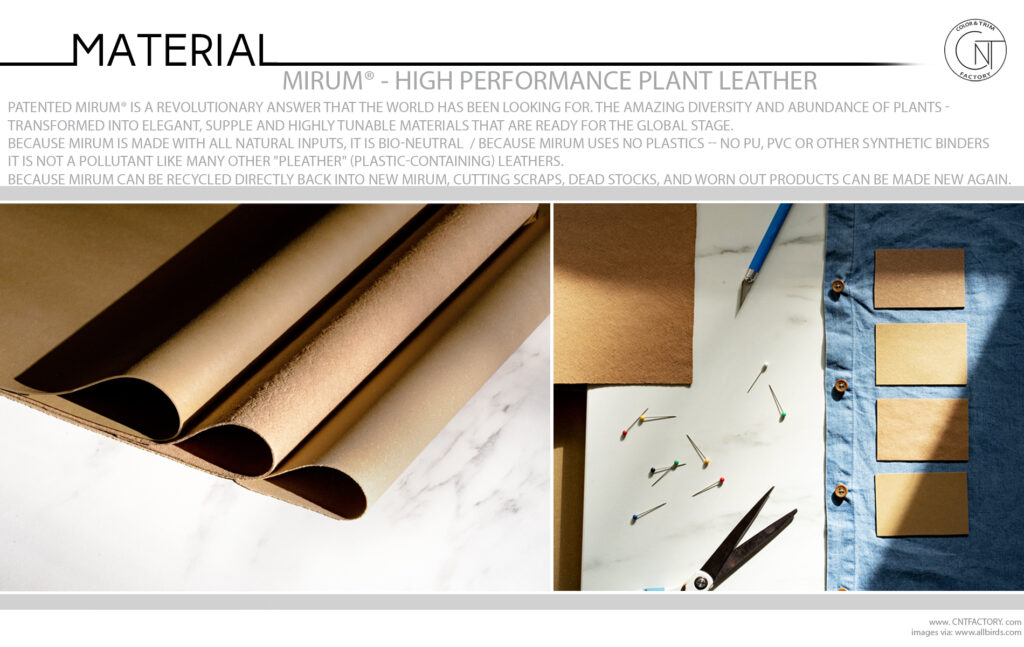 MIRUM is made with natural, biodegradable polymers. finished materials are never coated in polyurethane and use no synthetic binders. MIRUM stands for 100% natural inputs and zero use of plastic. With MIRUM, nature becomes a playground for creative expression. From textures to complex constructions, the possibilities for customization are limitless.