Related Post: SEA ME – Sea Algae Yarn / Spider Silk / Siberian Birchbark Trim
Botanical Dyes extracted from nature are much safer for the environment, as they reduce the amount of harsh chemicals and colorants that would otherwise enter into the planet's water streams. These dyes can help transform the way colorants are used in everyday products and encourage the shift towards a more responsible system of production and consumption. The natural dyes that are used, are created from food waste and natural resources. Plants, fruits and vegetables help to achieve rich hues and beautiful tones. Textiles are dyed in a way which uses less water, are non-toxic and biodegradable.
To celebrate the birth of the new PANGAIA logo, company has launched the core collection of t-shirts only, brought to life by the 7 brand colors: Cobalt blue, Saffron yellow, Flamingo pink, Persimmon orange, Celestial blue, Orchid purple and Jade green. Pangaia used a dyeing process with low water consumption and treatment of textile effluents, aiming to reuse water during the washing processes. This is a more sustainable, 'environmentally friendly' process which uses low toxicity products in order to reduce the generation of effluents, whilst also promoting low water consumption. These selected seven colors have all found their inspiration in nature.
This pink t-shirt is colored with Japanese sakura cherry blossoms.
FLWRDWN™ is a fully biodegradable material, created with natural​ wild flowers, a biopolymer and infused with aerogel for performance and durability. this ​proprietary ​technology​ ​has taken the scientists​ ​10 years​ ​of in-​lab​ research and development. It is the ​warm​, ​breathable​, ​hypoallergenic and ​cruelty-free​ alternative to goose and duck down – kind to your skin, as well as your planet.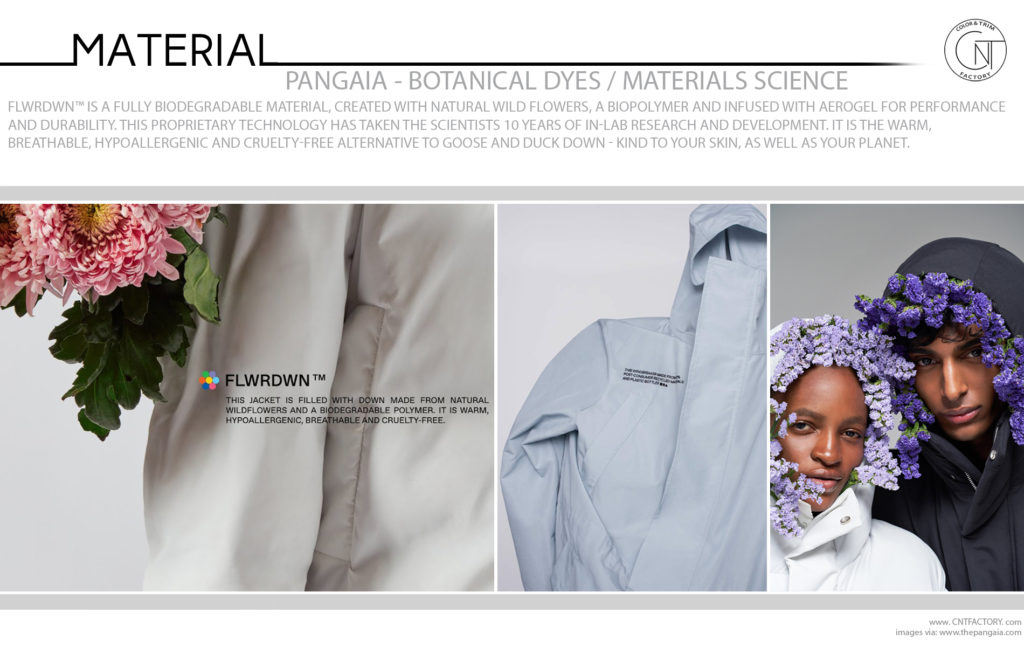 Over 100BN items of clothing and 500BN plastic bottles are being produced every year. Half goes to landfill, taking decades to decompose. All textile and plastic waste can be recycled, turned into a yarn and reused repeatedly. Pangaia developed products made of post-consumer recycled materials and plastic bottles. It does not only look good, but most importantly, feels good.