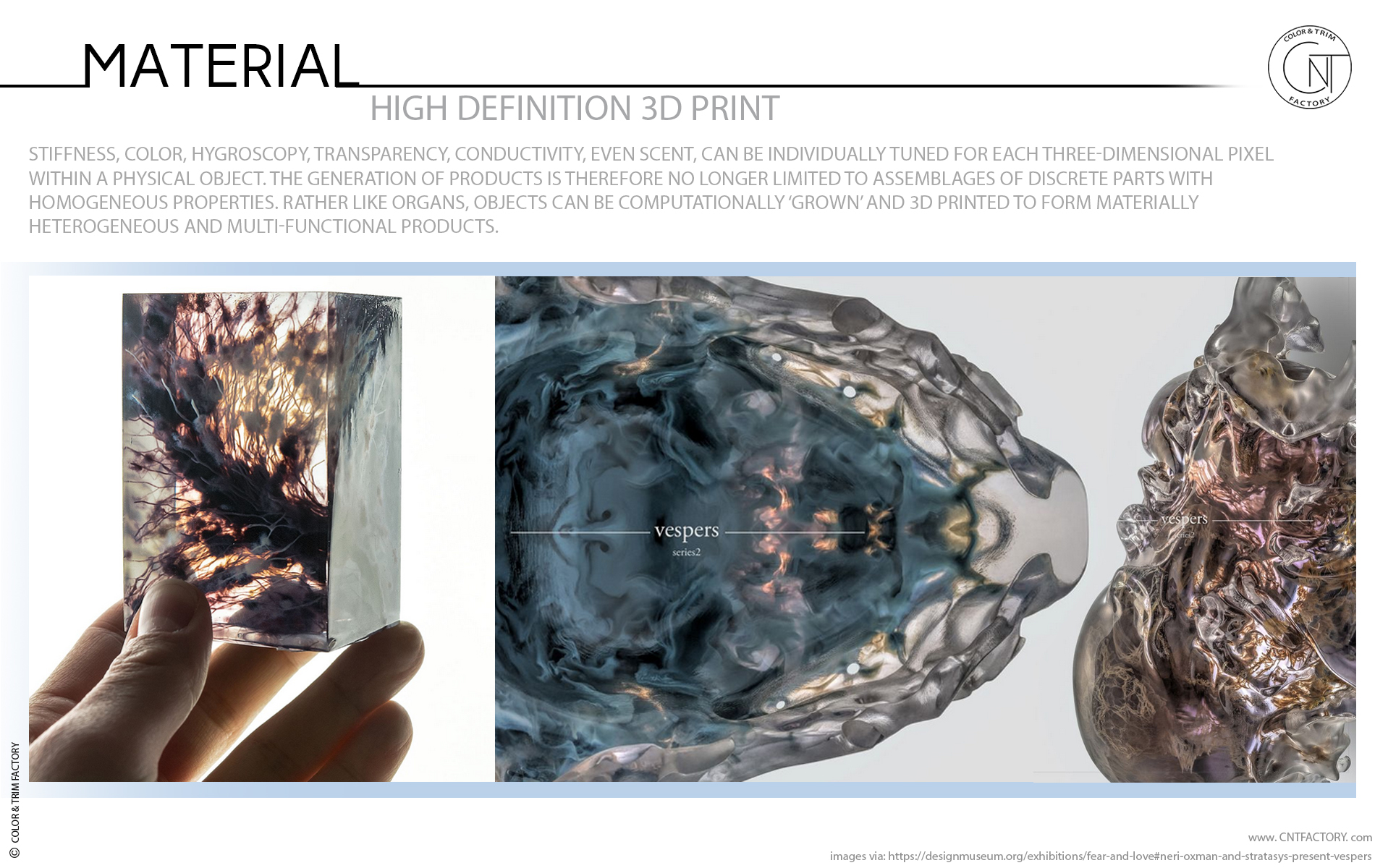 Neri Oxman, an architect, designer and professor at MIT in Boston, has created with the Mediated Matter Group and 3D printing company Stratasys a series of death masks called Vespers, using ultra-high definition 3D printing. Reviving this ancient ritual object traditionally made using wax or plaster with state-of-the-art technology, Oxman speculates on how wearable accessories might help to transform us at the end of our lives. This new body of work is the culmination of a project that recently included a mask created for Björk.
Throughout history, technologies express the spirit of their age in design, and are embodied within the archetypes they create. Some archetypes—such as automobiles, airplanes, garments, prosthetic devices, and building skins—have evolved to improve the relationship between object, body, and environment. Others have become relics. The subject of Vespers, the next embodiment of the death mask, is a relic. The objects of Vespers are artifacts, which unite information architectures, manufacturing practices, and—at times—biological augmentation, to grow rather than assemble. Vespers' death masks, however, are not intended to memorialize the dead. They are designed to reveal cultural heritage and speculate about the perpetuation of life, both culturally and biologically. By pushing the boundaries of cusp technologies—such as high-resolution material modeling, multi-material 3D printing, and synthetic biology—they express the death mask's deeper meanings and possible future utility, thus bringing it back to life.
The custom of the death mask in the ancient world was believed to strengthen the spirit of the deceased and guard their soul from evil on the way to the afterworld. In this view, death is a conduit to a form of rebirth. The mythical notion that the soul can be guided from a state of death to a new state of life inspired the design of Vespers.
The Vespers collection comprises three series, each with five masks, that are related through time. Here, we unveil the second series. Modelled after Lazarus, this series—the present—explores the transition between life and death, illustrating the progression of the death mask from a symbolic cultural relic—as represented in the first series, past—to a functional biological interface—as revealed in the third series, future. It moves beyond the exterior surface and into the interior volume of the mask, employing a contemporaneous interpretation of the soul's journey.
Using spatial mapping algorithms, the culturally coded surface colorations and truncated geometries in the first series are transformed into colored, internal strands within transparent, smoothly curved volumes in the second. The second series elucidates embryonic forms through complex internal geometries as it prepares to support the re-engineered life of the third series. In this series, it is the interplay of light that reveals the internal structures. Like spirits (from Latin spiritus, meaning "breath"), these structures reference the distribution of the martyr's last breath.
Save
Save
Save
Save
Save
Save