NewspaperWood is the result of a study project of Design Academy Eindhoven graduate Mieke Meijer. After partnering with Vij5 and the presentation of the material at its infancy in 2011, the material underwent a long development process, resulting in an improved material of consistent quality. We are proud to be one of the founders of NewspaperWood bv and still use the material for several products in the
Vij5 collection.
Every day, piles of newspapers are discarded and recycled into new paper. During her study at the Design Academy Eindhoven in 2003, Mieke Meijer devised a solution to use this surplus of paper into a renewed material: NewspaperWood. NewspaperWood shows a reversing of a traditional production process (not from wood to paper, but the other way around) by making a wood-like material out of newspapers. When a NewspaperWood log is cut, the layers of paper appear like wood grain or growth rings of a tree and therefore resemble the aesthetics of real wood.
Mieke and Vij5 (Arjan van Raadshooven & Anieke Branderhorst) first met in 2007. By discovering the NewspaperWood in Mieke's portfolio, a collaboration between them originated quickly. After presenting NewspaperWood for the first time in 2008 at the Dutch Design Week Eindhoven (NL), Vij5 and Mieke continued developing the material and its production process.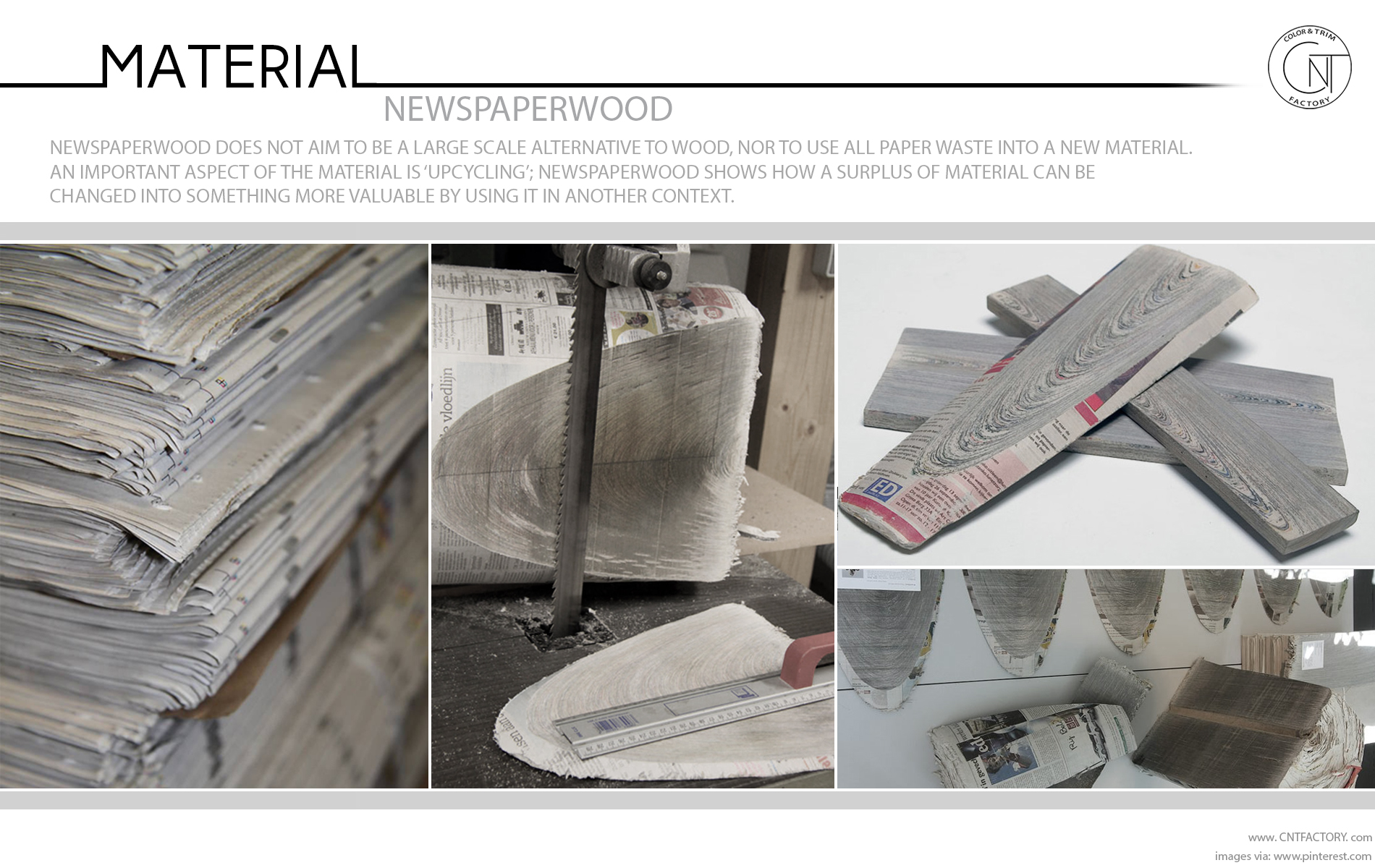 Upcycling
NewspaperWood does not aim to be a large scale alternative to wood, nor to use all paper waste into a new material. An important aspect of the material is 'upcycling'; NewspaperWood shows how a surplus of material can be changed into something more valuable by using it in another context.
As a source material, NewspaperWood only uses misprints and non-spread newspapers from a local printing press. The lifecycle of a newspaper is a few days after which the paper is discarded. NewspaperWood enhances the base materials characteristics and is therefore being considered an upcycling example.
To actually upcycle the newspapers into this new wood-like material, newspapers are (temporarily) taken out of the already existing and efficient cycle of paper-recycling. We aim to bring our own waste material back into the circle again too. Therefore we use a glue to construct the material which is free of solvents and plasticizers, because those would make it more difficult to recycle. Through this, it is not only possible to put our own waste back into the circle. It also makes it possible to recycle the eventual end product as you would do paper.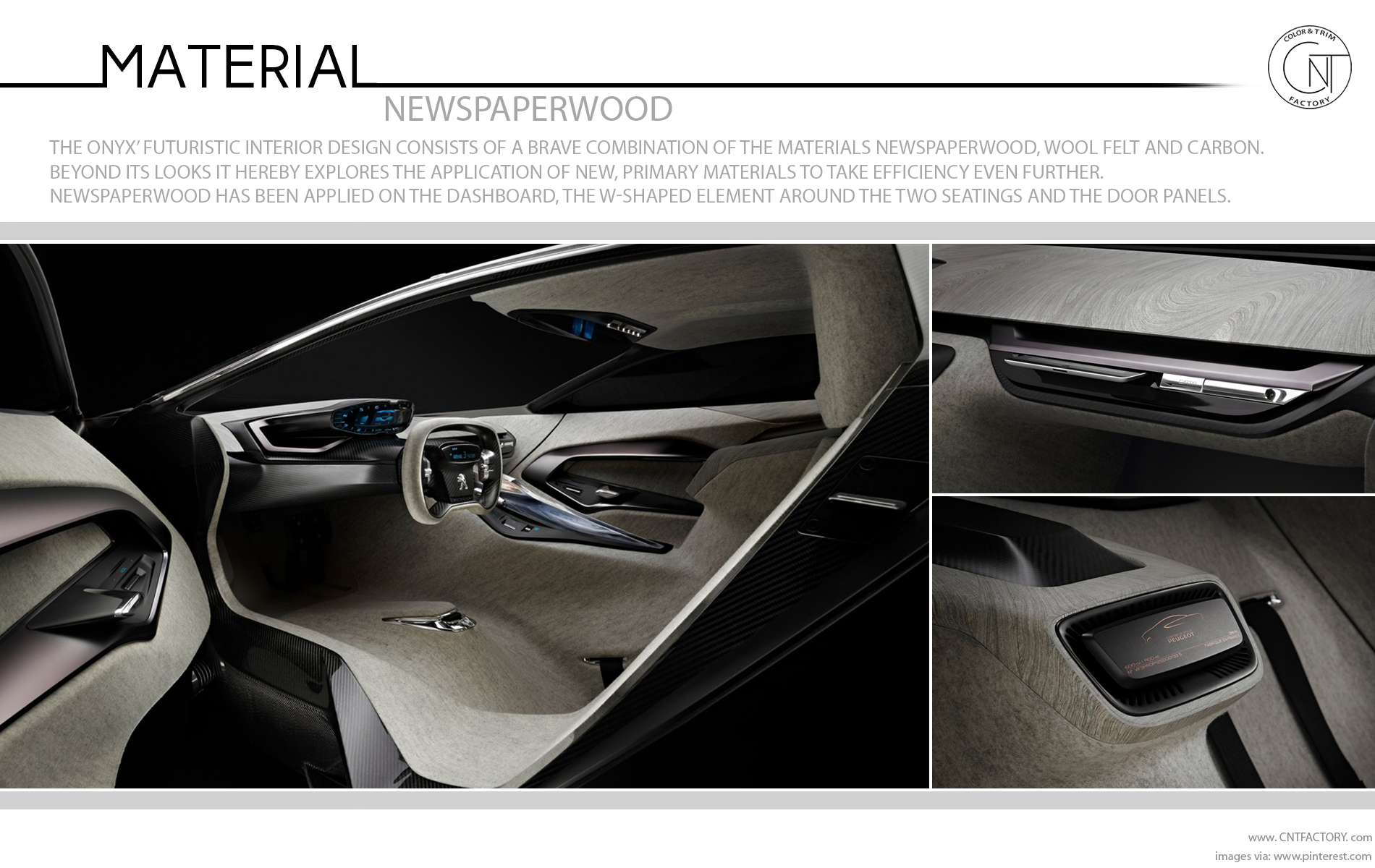 The Onyx' futuristic interior design consists of a brave combination of the materials NewspaperWood, wool felt and carbon. Beyond its looks it hereby explores the application of new, primary materials to take efficiency even further. NewspaperWood has been applied on the dashboard, the w-shaped element around the two seats and the door panels. The combination with wool felt results, especially for the car industry, in a rather special interior.
In 2011 the design team of Peugeot scouted the NewspaperWood material at a joint exhibition of Vij5 and Mieke Meijer in Milan, resulting in a special project they have been working on in complete secrecy. In close cooperation with the Peugeot design team, the NewspaperWood material developed even further. The Onyx has been officially launched during the 2012 Paris Motor Show.