Related Post: Parley x Corona / Ecobirdy / Regenerated Nylon Econyl® From Aquafil
The ECONYL® brand thrives where sustainability and innovation meet. The noho moveTM chair was developed as a result of a collaboration between creative designers at the New Zealand-based sustainable furniture company noho and suppliers of recycled, eco-friendly raw materials. From the raw materials they utilize and the longevity of their products to their packaging, supply chain, and the way they power manufacturing, sustainability is a key component of their business model. Formway, a research-driven studio that creates cutting-edge furniture with a common commitment for protecting the environment, designed all of the noho furniture.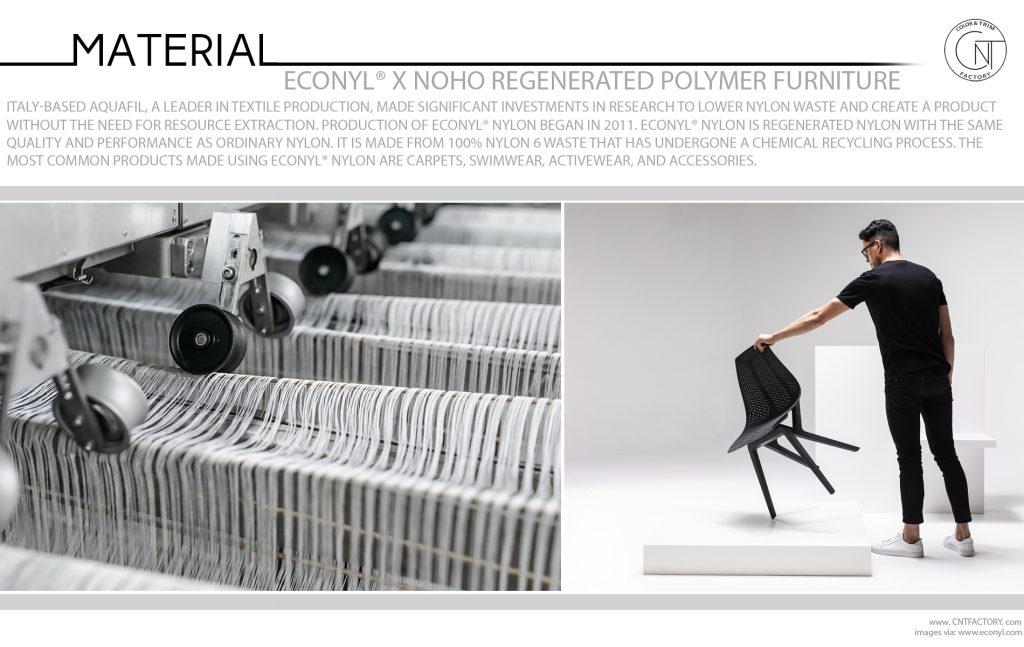 Italy-based Aquafil, a leader in textile production, made significant investments in research to lower nylon waste and create a product without the need for resource extraction. Production of ECONYL® nylon began in 2011. ECONYL® nylon is regenerated nylon with the same quality and performance as ordinary nylon. It is made from 100% Nylon 6 waste that has undergone a chemical recycling process. The most common products made using ECONYL® nylon are carpets, swimwear, activewear, and accessories
When designers consider a new product with the goal in mind, they can produce stunning, sustainable designs. This cooperation between noho and ECONYL® nylon is evidence of this. The industry is now more open to greater sustainability through cutting-edge materials thanks to this relationship, which demonstrates the endless applications of ECONYL® nylon in interior design.
According to Bonazzi, The noho moveTM chair is pushing the limits and performance capabilities of the material while also revolutionizing residential seating design.