The limited-edition sunglasses will be available on NET-A-PORTER with each pair enabling consumers to help protect dedicated remote islands  CleanWaves.com Individual geographical coordinates are featured on every pair of eyewear, directly connecting each pair to a specific place in paradise impacted by marine plastic pollution and through purchase consumers help protect. For every 100 pairs of sunglasses sold, Parley and Corona will expand their commitment and protect one more island against marine plastic pollution for one year. The first edition launches with models linking to islands in Maldives, Palau and Bali.
Since making a commitment to protect 100 islands by 2020, Corona x Parley have intercepted plastic from dozens of remote islands, while rallying thousands of volunteers for clean-ups and education campaigns. The material collected sparked a deeper investigation into the complex types, sources and pathways of plastic in some of the most severely affected areas of the Maldives, Indonesia, Australia, Sri Lanka, Mexico and Chile. The launch of Clean Waves will bring new value to such plastic waste intercepted by upcycling the full range of plastic types, including some that are typically overlooked or left behind due to low material value. Therefore, in addition to the most valuable recyclables, including PET, Nylon 6 and HDPE, Clean Waves is also putting a strong focus on transforming polypropylene (PP) into new forms of Ocean Plastic® for use in high-end consumer products, starting with fashion accessories. The sunglasses are the first produced with a new technology, which transforms low-quality types of plastic waste into high-performance materials, providing a unique look.
Related Post: Recycled Plastic by Ecobirdy / Adidas and Parley for the Oceans / Recycled Material by Pentatonic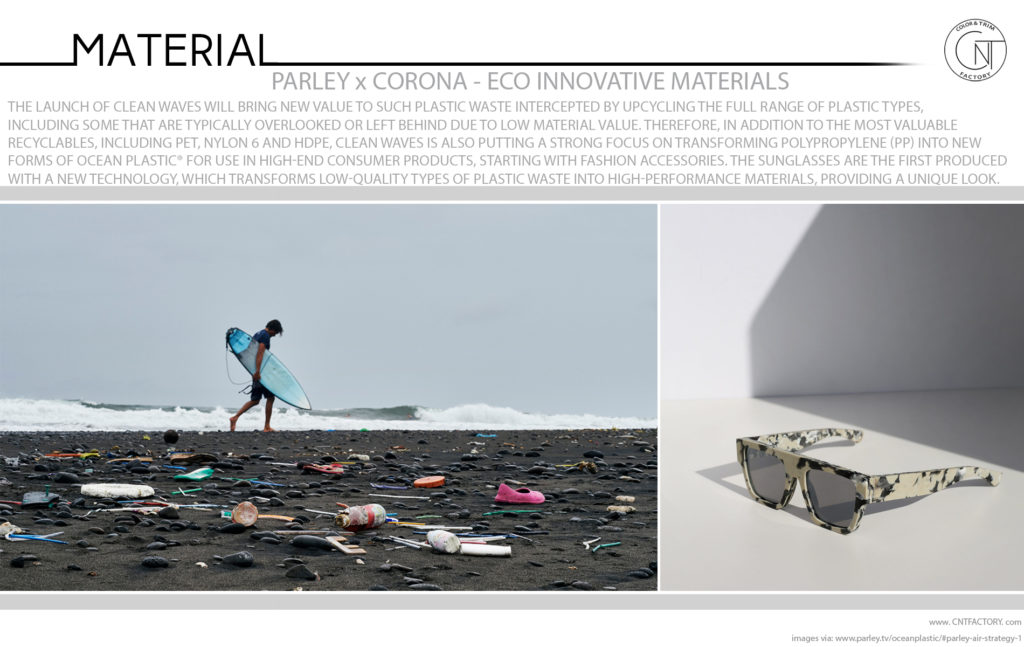 HERE ARE THE PROBLEMS OUR OCEANS FACE
A massive amount of plastic trash ends up in our oceans every year. The ocean currents have formed five gigantic, slow moving whirlpools where the plastic collects, nicknamed Vortex. Recent studies indicate that at least 5 trillion pieces weighing over 250,000 tons are now floating in the world's oceans. The majority of the plastic debris sinks or remains in the Vortexes, however a significant percentage of it washes onto our coastlines daily.
After sunlight photodegrades the plastic into small pieces, aquatic life and seabirds mistake these fragments for food and ingest it. While it's difficult to know exact figures, a 2012 report from WSPA indicates that between 57,000 and 135,000 whales are entangled by plastic marine debris every year in addition to the inestimable – but likely millions – of birds, turtles, fish and other species affected by plastic marine debris. New studies show that ingested plastic damages the internal organs of fish. This raises the question about the safety of our seafood.