Related Post: "The Gallery" by Rolls-Royce Phantom
The Rolls-Royce Bespoke Group created a unique Liquid Noir paint to provide the gorgeous, shimmering exterior. When viewed from different angles, its iridescent quality in sunlight exposes undertones of Purple, Blue, Magenta, and Gold. The marque's deepest solid-black paint is covered with a finish made of a pigment that resembles mirrors and was chosen for its ability to change color to produce this illusion. The team created a brand-new method of adding pigment to the clear-coat in order to provide a delicate, exquisite sheen. This procedure took several months and required more than 3,000 hours of testing and validation. A delicate portrayal of the Weaving Water design, created by carefully spreading the pigment during the finishing process.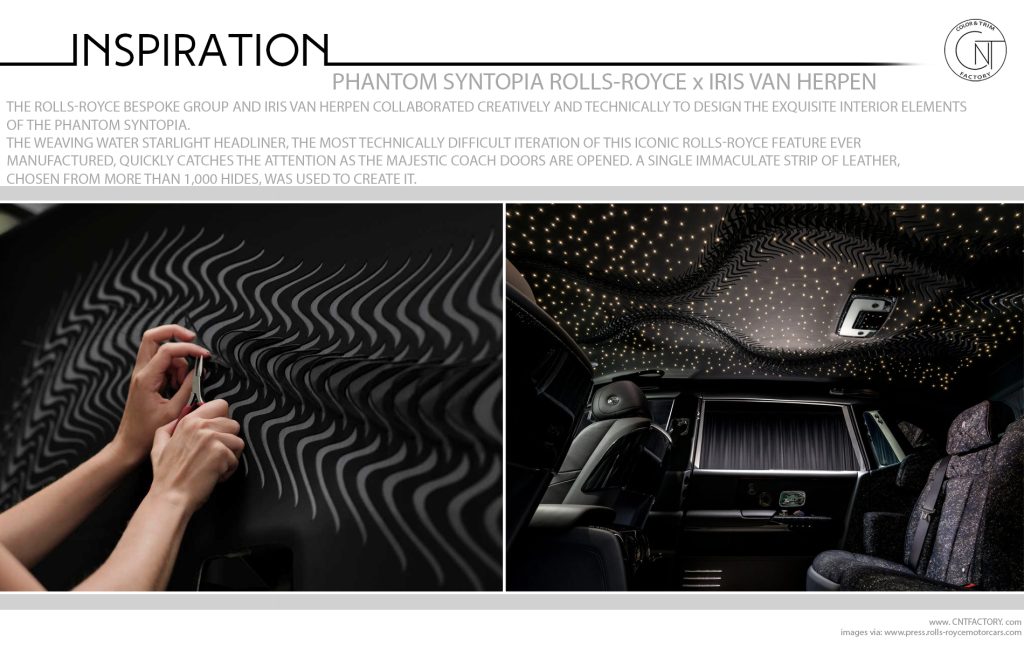 The Rolls-Royce Bespoke Group and Iris van Herpen collaborated creatively and technically to design the exquisite interior elements of the Phantom Syntopia.
The Weaving Water Starlight Headliner, the most technically difficult iteration of this iconic Rolls-Royce feature ever manufactured, quickly catches the attention as the majestic coach doors are opened. A single immaculate strip of leather, chosen from more than 1,000 hides, was used to create it.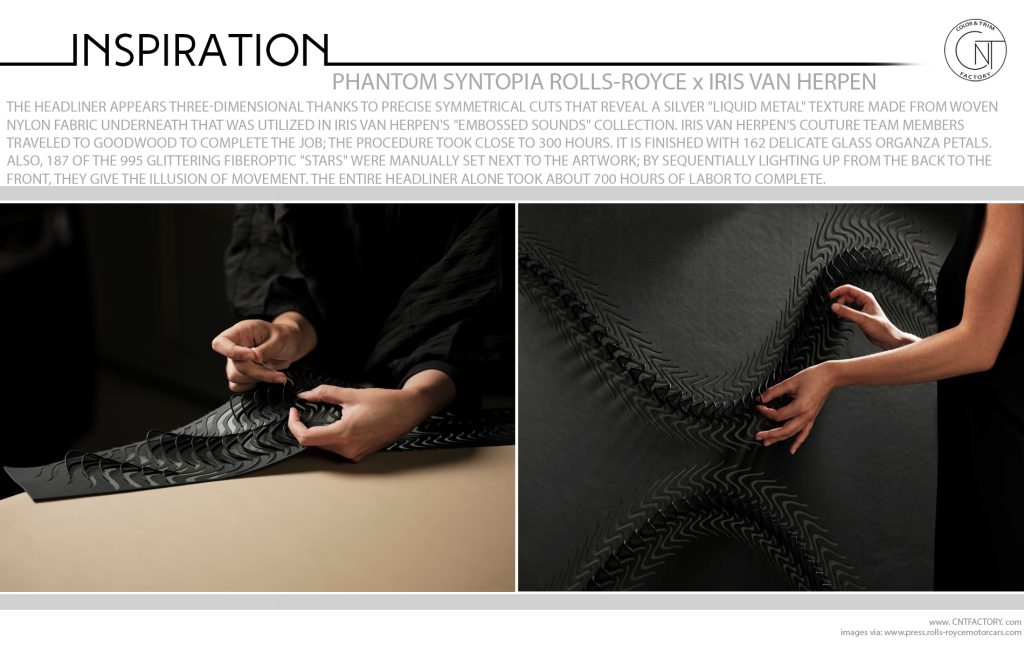 The Headliner appears three-dimensional thanks to precise symmetrical cuts that reveal a silver "liquid metal" texture made from woven nylon fabric underneath that was utilized in Iris van Herpen's "Embossed Sounds" collection. Iris van Herpen's Couture team members traveled to Goodwood to complete the job; the procedure took close to 300 hours. It is finished with 162 delicate glass organza petals. Also, 187 of the 995 glittering fiberoptic "stars" were manually set next to the artwork; by sequentially lighting up from the back to the front, they give the illusion of movement. The entire Headliner alone took about 700 hours of labor to complete.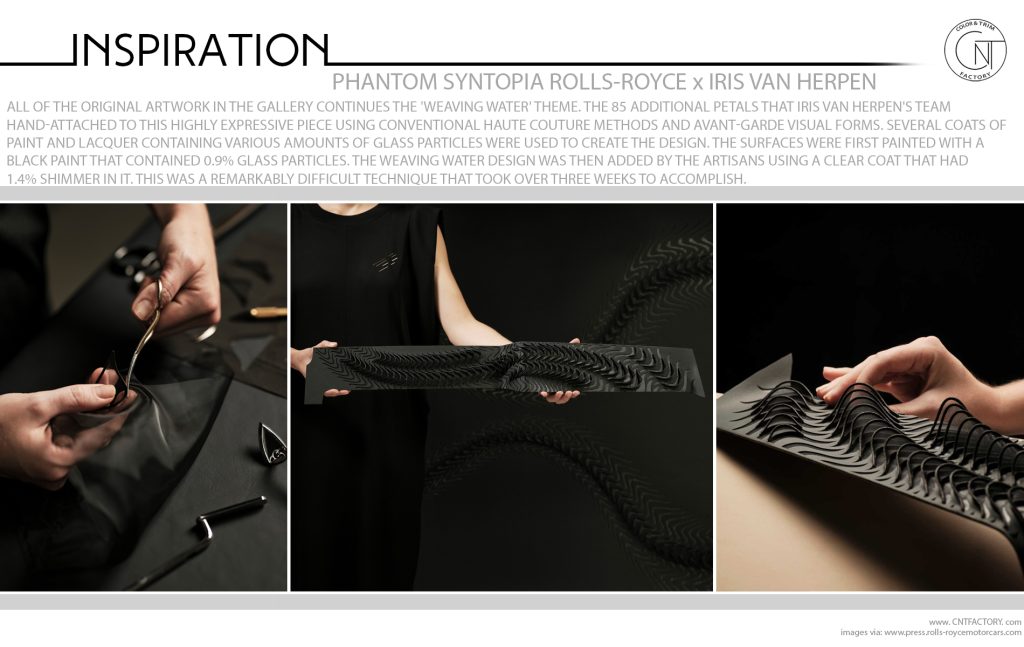 The 'Weaving Water' theme continues throughout the unique artwork in the Gallery. Combining traditional Haute Couture techniques and innovative visual forms, this highly expressive work includes a further 85 petals, which were also attached by hand by Iris van Herpen's team.
The motif was achieved by combining multiple coats of paint and lacquer containing different quantities of glass particles. First, the surfaces were covered with a black paint mixed with 0.9% glass particles. Then the artisans applied the Weaving Water motif with a clear coat mixed with 1.4% of shimmer – an extraordinarily complex process that took over three weeks to complete.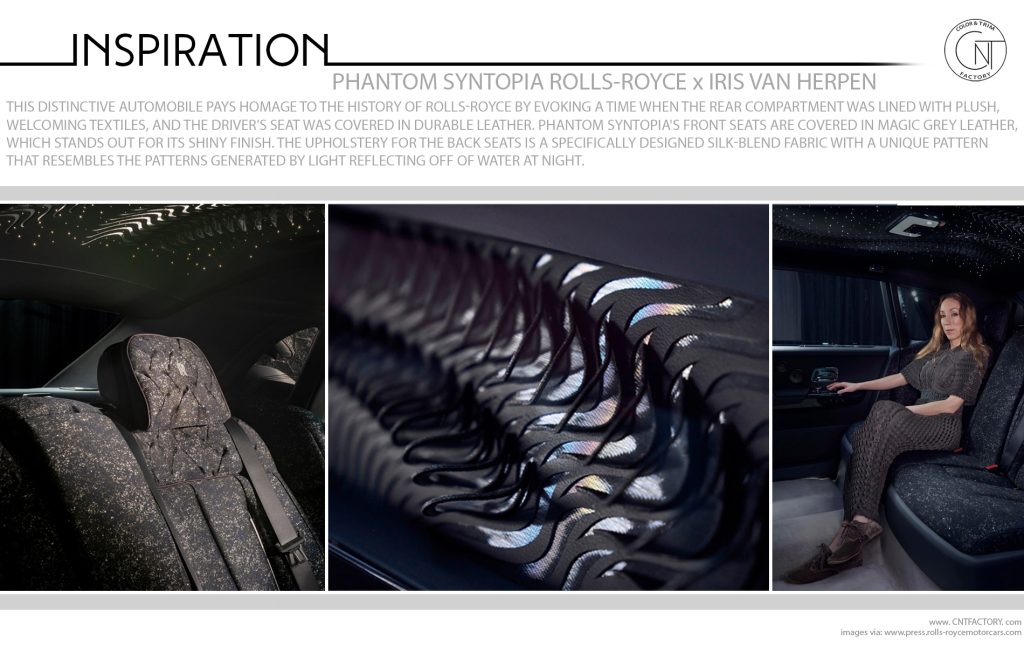 This distinctive automobile pays homage to the history of Rolls-Royce by evoking a time when the rear compartment was lined with plush, welcoming textiles, and the driver's seat was covered in durable leather. Phantom Syntopia's front seats are covered in Magic Grey leather, which stands out for its shiny finish. The upholstery for the back seats is a specifically designed silk-blend fabric with a unique pattern that resembles the patterns generated by light reflecting off of water at night.