Nymphenburg porcelain captures the beauty of a Harkness English rose bred especially for the launch of Phantom. For nearly 300 years, Nymphenburg artisans have created hand-made porcelain sculptures of both delicate and monumental scale.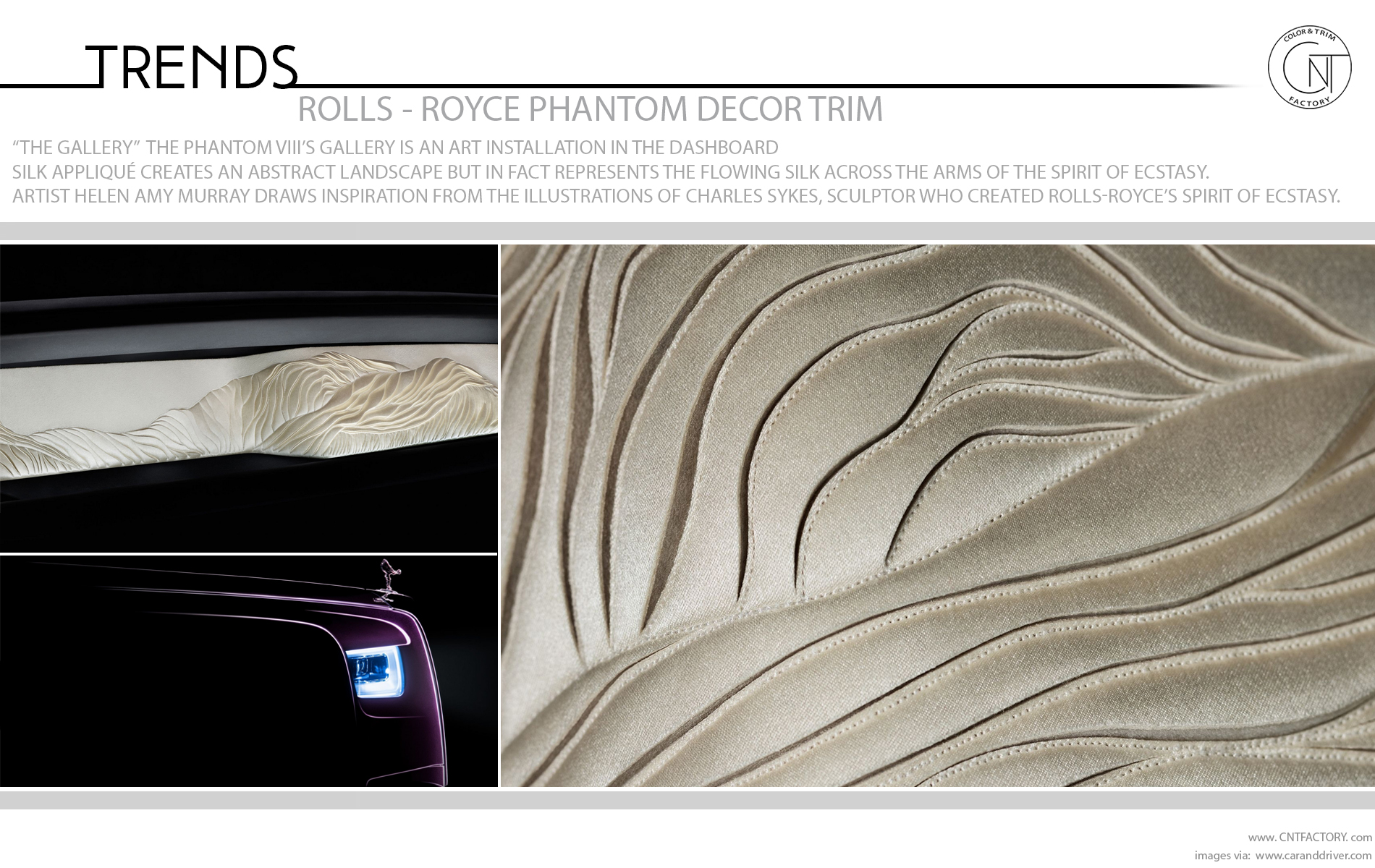 "The Gallery" The Phantom VIII's gallery is an art installation in the dashboard
Silk appliqué creates an abstract landscape but in fact represents the flowing silk across the arms of the Spirit of Ecstasy. Artist Helen Amy Murray draws inspiration from the illustrations of Charles Sykes, sculptor who created Rolls-Royce's Spirit of Ecstasy.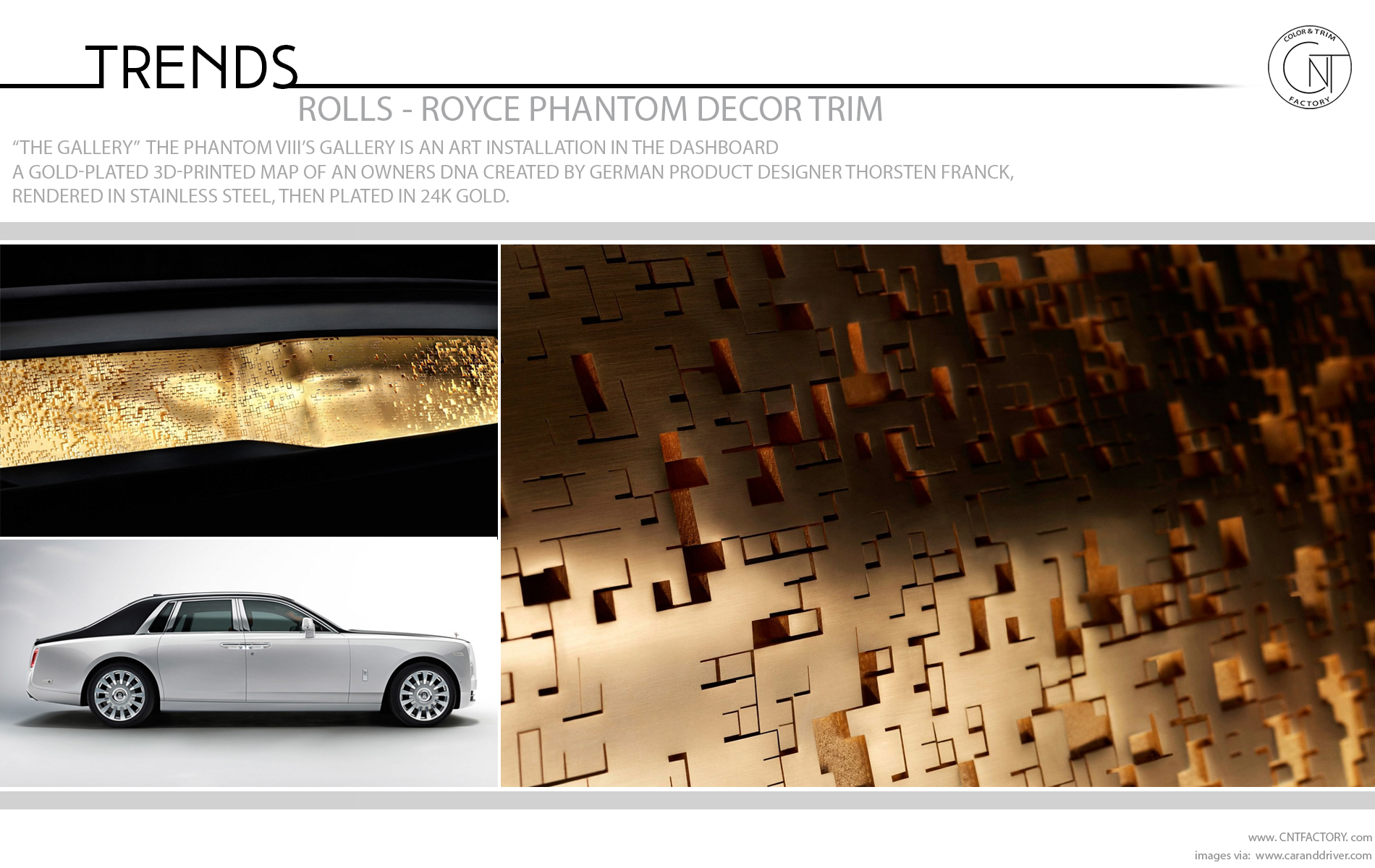 A gold-plated 3D-printed map of an owners DNA created by German product designer Thorsten Franck, rendered in stainless steel, then plated in 24k gold.
Oil painting inspired by the South Downs of England in Autumn by renowned Chinese fine artist Liang Yuanwei. Prior to Phantom's launch, Liang Yuanwei spent time in the West Sussex countryside, capturing the natural beauty around the Goodwood home of Rolls-Royce.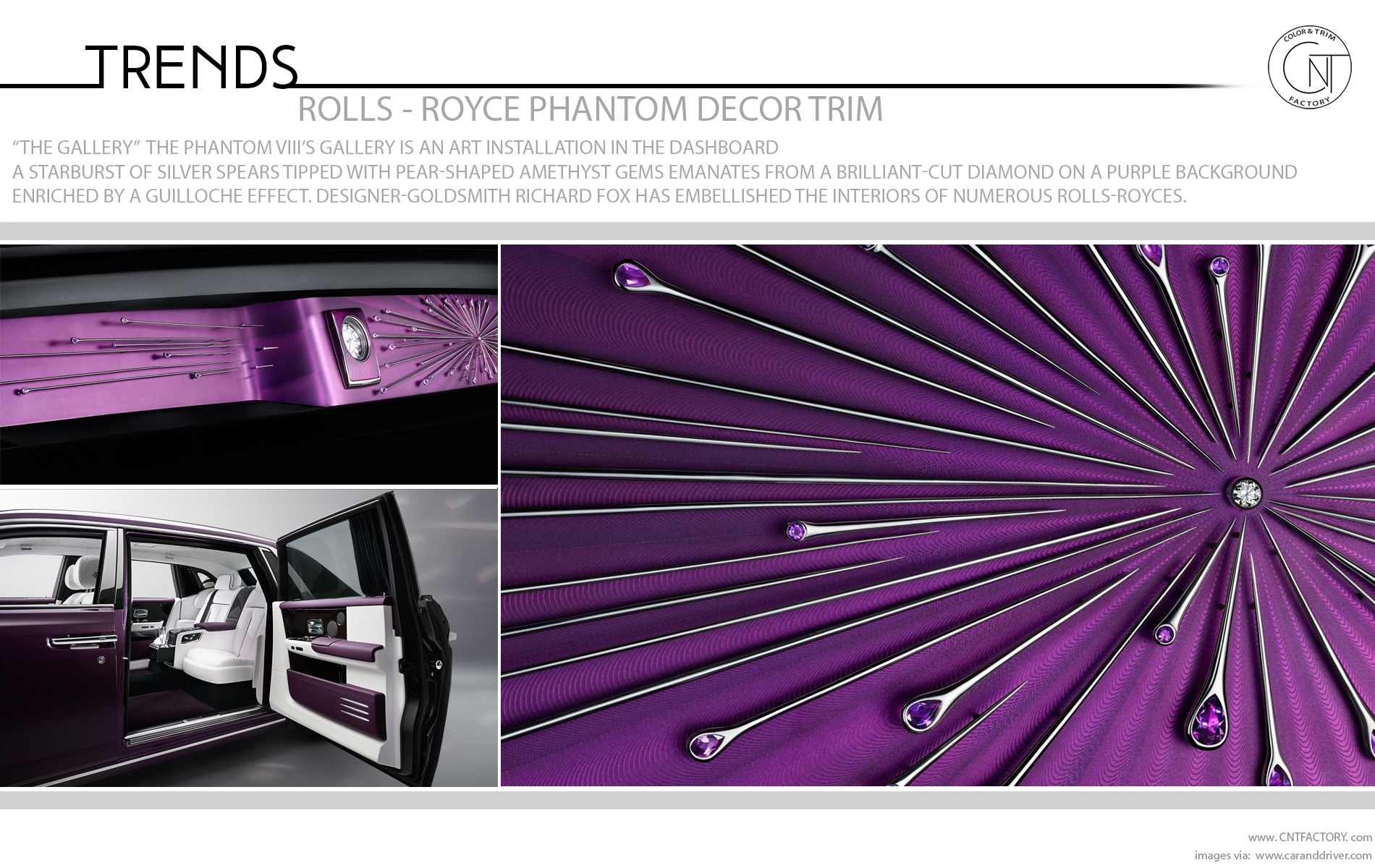 A starburst of silver spears tipped with pear-shaped amethyst gems emanates from a brilliant-cut diamond on a purple background enriched by a guilloche effect. Designer-Goldsmith Richard Fox has embellished the interiors of numerous Rolls-Royces.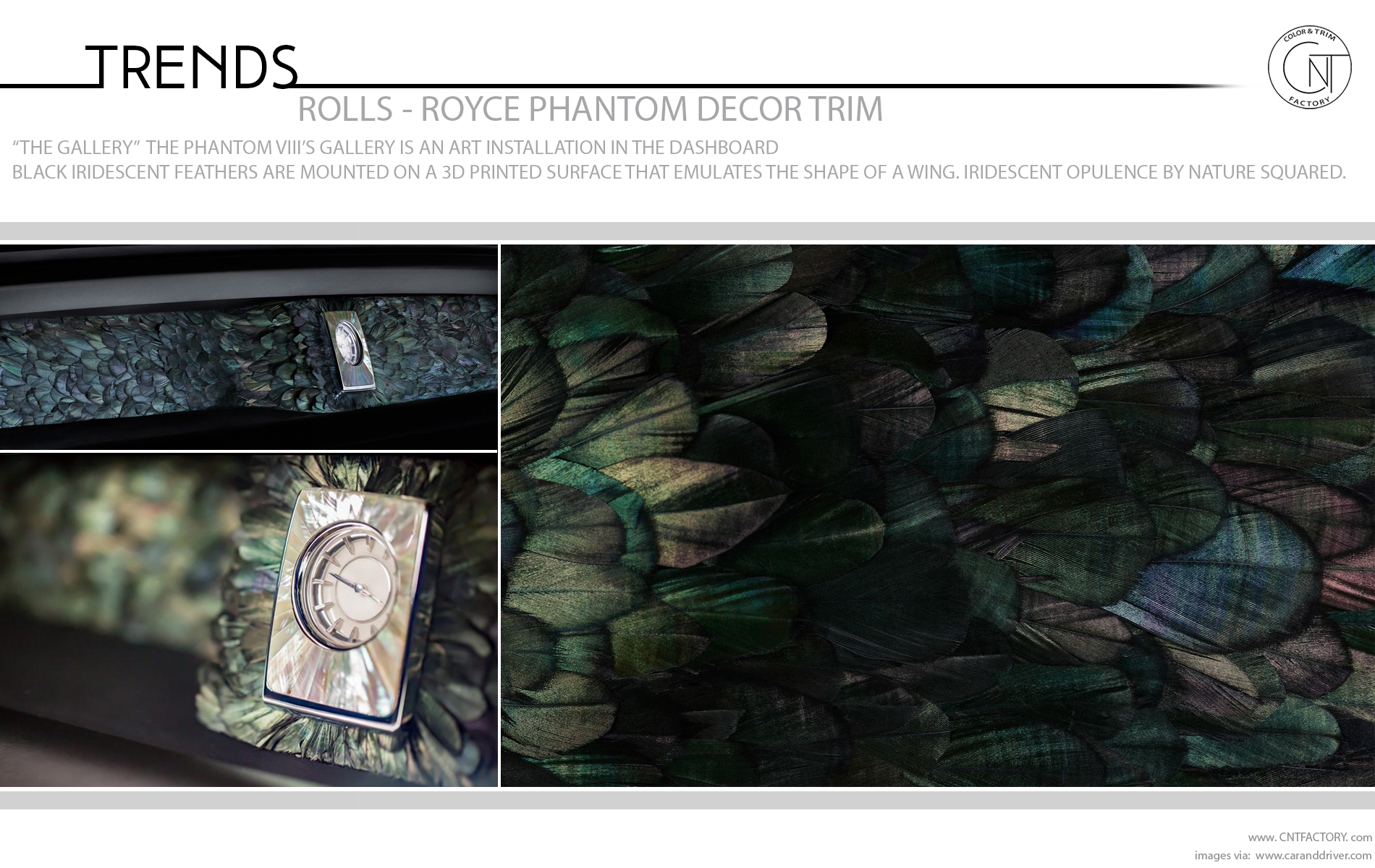 Black iridescent feathers are mounted on a 3D printed surface that emulates the shape of a wing. Iridescent Opulence by Nature Squared.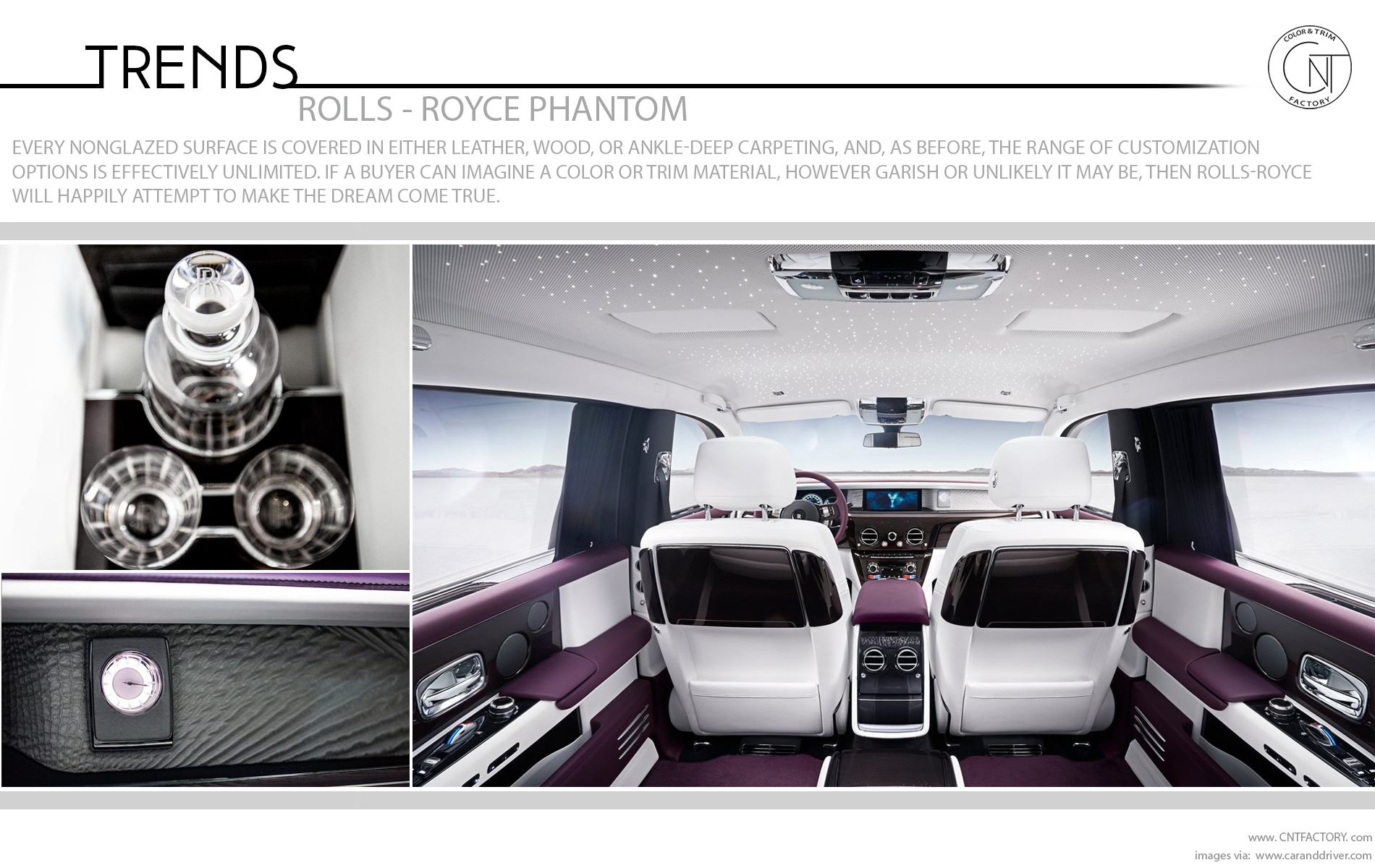 Every non-glazed surface is covered in either leather, wood, or ankle-deep carpeting, and, as before, the range of customization options is effectively unlimited. If a buyer can imagine a color or trim material, however garish or unlikely it may be, then Rolls-Royce will happily attempt to make the dream come true.