Related Posts: Peugeot e-Legend Concept / 2018 Geneva Motor Show / 2018 Detroit Motor Show Material Focus
Ermenegildo Zegna is the leading luxury menswear brand, one of the most renowned businesses in Italy. It was founded in 1910 in Trivero, in the Alps above Biella by the young entrepreneur Ermenegildo. His vision was to ethically create the world's finest textiles through innovation and fibres sourced directly from their countries of origin. The company is now famed not only for its fabrics and clothing, but also for its unique collection of accessories.
The dual color, dual material composition of the leather and exclusive anthracite silk trim package designed by Ermenegildo Zegna for Maserati is reflected in the strong presence of premium leather accessories
PELLE TESSUTA™ is an innovative and unique leather fabric created and developed exclusively by Ermenegildo Zegna. Extremely thin nappa leather yarns are masterly woven on a loom replicating the traditional method of weaving cloth. The result is a precious leather fabric recalling cashmere's feel for its softness and lightness. This exclusive manufacturing process extends the quality of Zegna's textile heritage into the leather world.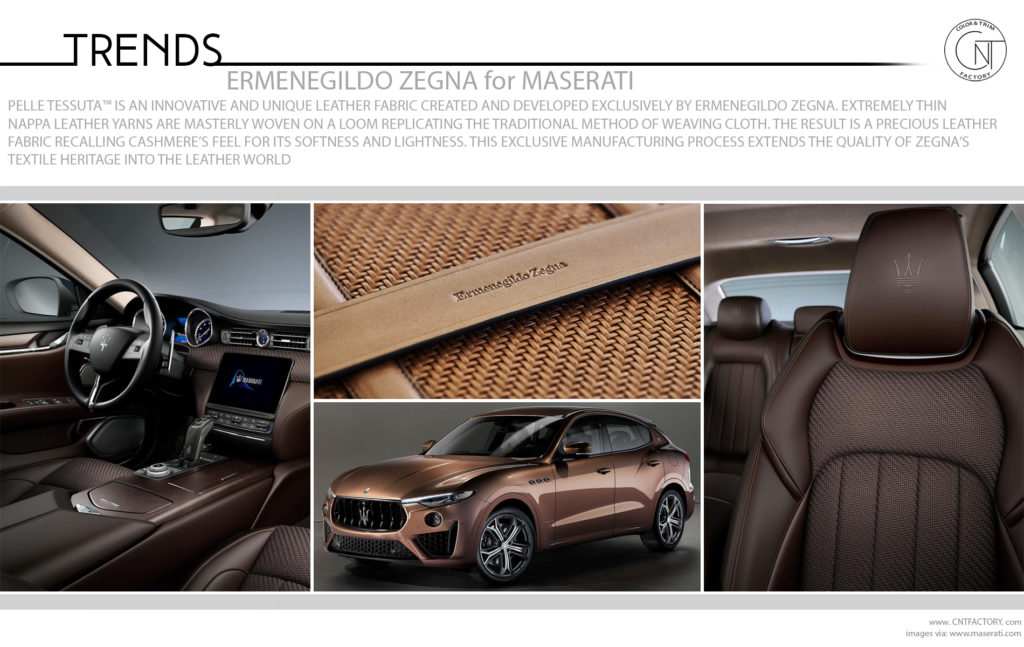 The three-dimensionality of the woven strips of leather create a tactile surface for this component, restoring light and texture, imbuing the volume of this component with expressive force. The sketches depict the research carried out by the Centro Stile Maserati into textures, their visual application to the various components and efforts to balance and harmonize colours within the context of the car interior.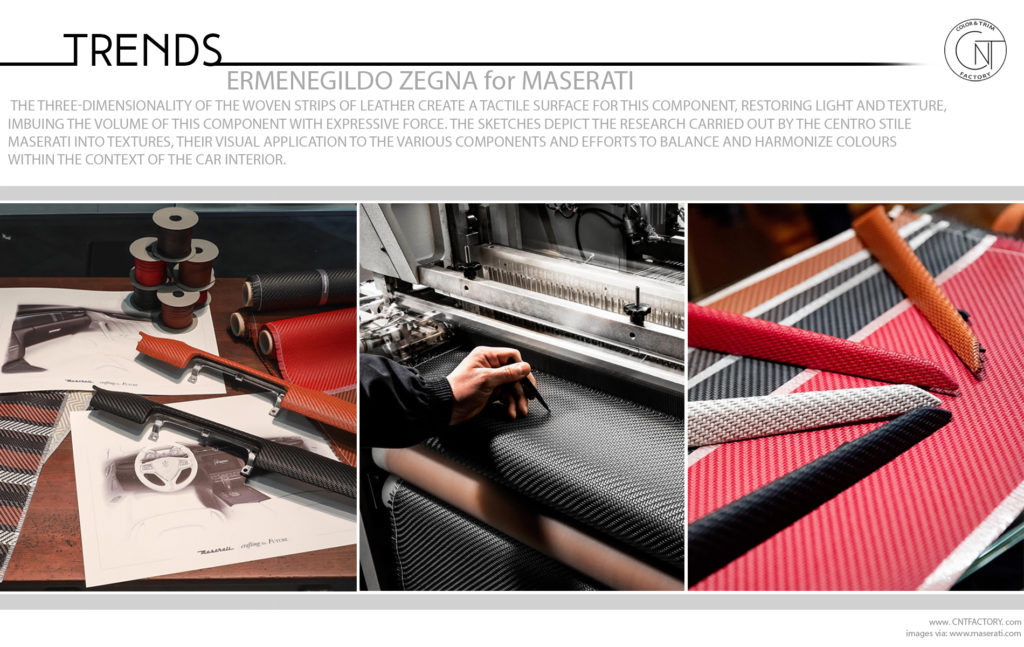 By means of three Quattroporte dashboard inserts Giorgetti illustrates the protagonist role of wood when it comes to Maserati components, highlighting how initial mechanical processes are followed by manual ones, operations like precision carving work, turning and modelling in three of the 12 Giorgetti wood species: Ash, Walnut and Maple. The table also features a wooden panel in antiqued ash with Shibori decorations, the inspiration for the two Quattroporte dashboard fascias which feature this technique in a micro-shibori version