Related Post: Teal / Marigold / Slate Blue
Brown's popularity has been boosted by the development of warm minimalism. Whether it's an organic brown linen for a family room sofa or a deep chocolate silk velvet on bergères for a living room, everyone wants to feel close to and comforted by the soil.
When we are surrounded with brown, we feel safe and secure, according to different colors. Its ties to the earth: a peaceful and durable aspect that keeps us firmly planted on the ground. So it's no wonder that brown is seeing a major rebound in home decor and interior design following past years of pandemic uncertainty.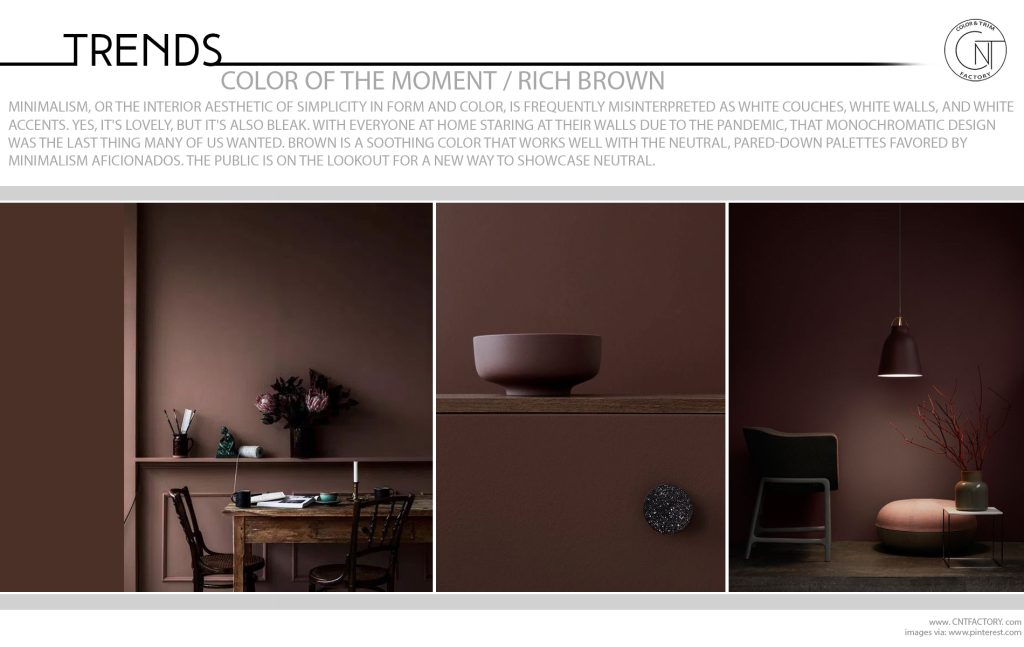 Minimalism, or the interior aesthetic of simplicity in form and color, is frequently misinterpreted as white couches, white walls, and white accents. Yes, it's lovely, but it's also bleak. With everyone at home staring at their walls due to the pandemic, that monochromatic design was the last thing many of us wanted. Brown is a soothing color that works well with the neutral, pared-down palettes favored by minimalism aficionados. The public is on the lookout for a new way to showcase neutral.
Warmth, earthiness, and tranquillity are all qualities associated with brown shades, making them ageless and grounding. For walls, drapes, and furniture, all colors of brown are returning, from deep rich chocolates to exquisite caramels. They work with a wide range of colors, from primary to jewel tones and other neutrals. Brown is a beautiful complement and base for additional splashes of color in a space, making it ideal for people that fall somewhere in the middle of both design types.