Similar Posts: Textile in Product Design / Gradient Textiles / Soft Tactile Audio Technologies
Researchers at Nottingham Trent University have created fabrics that contain over a thousand tiny solar cells that can be used to charge a smart watch or a mobile device.
A woven textile with 1,200 photovoltaic cells has been created thanks to research directed by Dr. Theodore Hughes-Riley of the Nottingham School of Art & Design's Electronic Textiles department.
Together, the cells can capture 400 milliwatts (mWatts) of solar energy, which is sufficient to power a basic cell phone or smartwatch.
The e-textile is a cutting-edge prototype that might be incorporated into a jacket or utilized as a component of a backpack as an accessory.
It is designed to be exposed to the same forces as daily clothing and is equipped with strong but incredibly flexible wiring. It can be machine-washed at 40°C alongside normal laundry. Only five millimeters long and 1.5 millimeters wide, the solar cells are incorporated in a waterproof polymer resin and cannot be felt by the wearer.
As all sun cells are constructed of silicon, the 51 by 27 cm material is breathable and chemically stable. According to tests, the material produced 335.3 mWatts of electricity in 0.86 sunshine. It may produce up to 394 mWatts under 1.0 sun.
This research demonstrates how e-textiles may lead the way in sustainability and have the power to transform how we currently think about technology.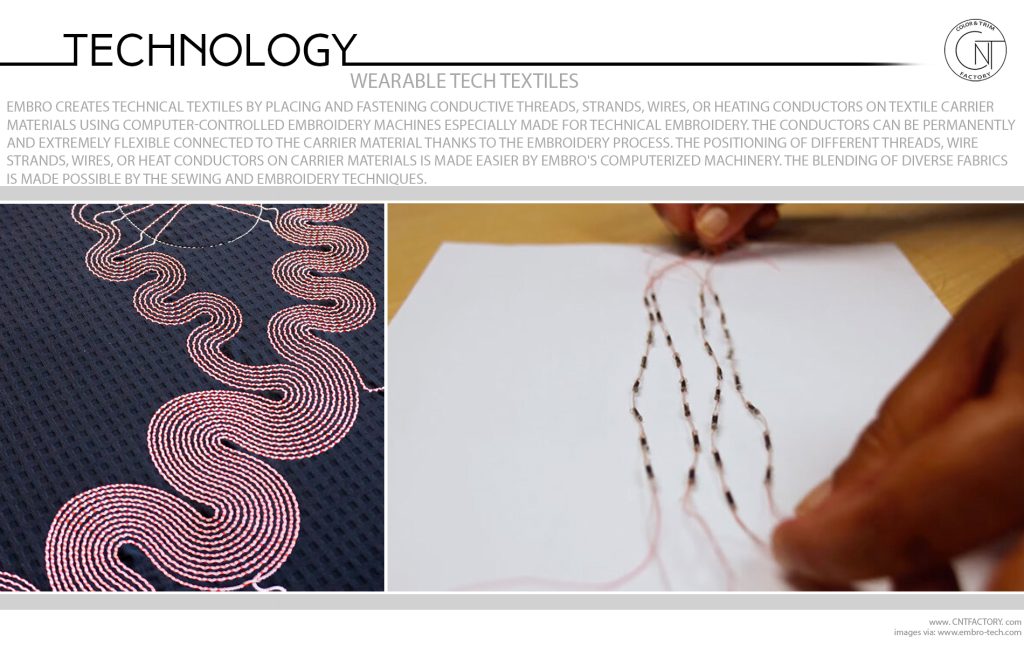 Using computer-controlled embroidery machines specially designed for technical embroidery, Embro manufactures technical textiles by laying and fixing conductive threads, strands, wires, or heating conductors on textile carrier materials. The embroidery technique enables a permanent and highly flexible connection of the conductors to the carrier material. Embro uses computerized machines to facilitate the tailored fiber or wire placement of various threads, wire strands, wires, or heat conductors on carrier materials. This sewing and embroidery technology allows for a durable and highly flexible combination of different materials.