Related Post: NewspaperWood / Paper Folding Art / Woven Details
Ecological grief is a growing response to experienced and anticipated loss caused by environmental destruction or climate change. There is comfort and hope to be found in solutions. Solace is a collection of wheel-thrown lidded vessels made by Claire Ellis in her Brunswick studio using ceramic materials and waste. This body of work is a culmination of Ellis' research and development using transformed plastic, glass and egg shells. Plastic clay bags collected from Melbourne ceramics studios are crafted into lids, eggshells from a local egg farmer are the source of calcium in the glaze recipe and glass bottles from Melbourne restaurants line the inside of the vessels.
Using waste materials in Claire Ellis' work is a small act of protest against our throw-away culture and it helps her to focus on solutions. The circular economy is based on three principals: designing out of waste and pollution, keeping products and materials in use, and regenerating natural systems. Addressing the third pillar of the circular economy, Claire Ellis Ceramics is registered as a 1% For The Planet Member to help regenerate natural systems by donating a certified 1% of annual revenue to environmental non-profits.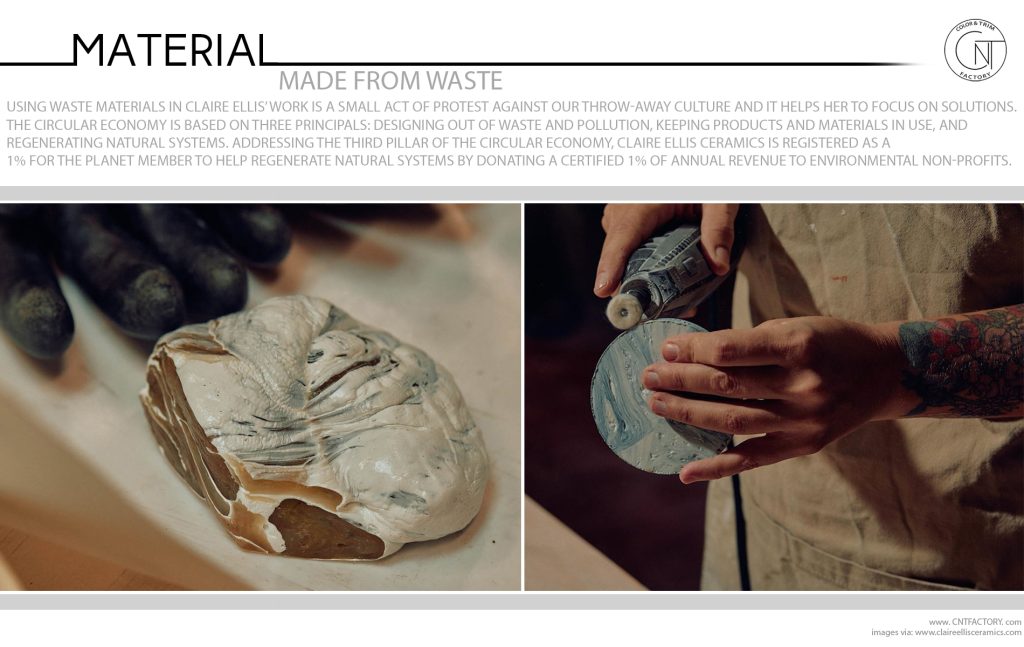 The waste materials also better named as surplus materials used are eggshells, glass bottles, ceramic sink sludge, sink trap waste, plastic clay bags and broken or failed ceramics that designer collected from her local community. The waste is seen as a resource, and aims to put a spotlight on these undervalued and abundant materials. Any clay, glaze and plastic by-products created during the production are collected and recycled back into a closed loop system.