Related Posts: TATA Motors H2X Concept / Lexus LS Color and Trim Innovations / Peugeot e-Legend Concept
Showcasing a modern vision of their Gen-3 electric cars announced for 2025, and re-interpreting global India, the TATA motors Avinya concept unveiled at the end of April in Mumbai shows an interesting CMF story, especially on the floor. Not new to the exercise (Ref. 2020 sierra concept), the designers at TATA are showing another innovative and sustainable flooring that delivers a very premium execution.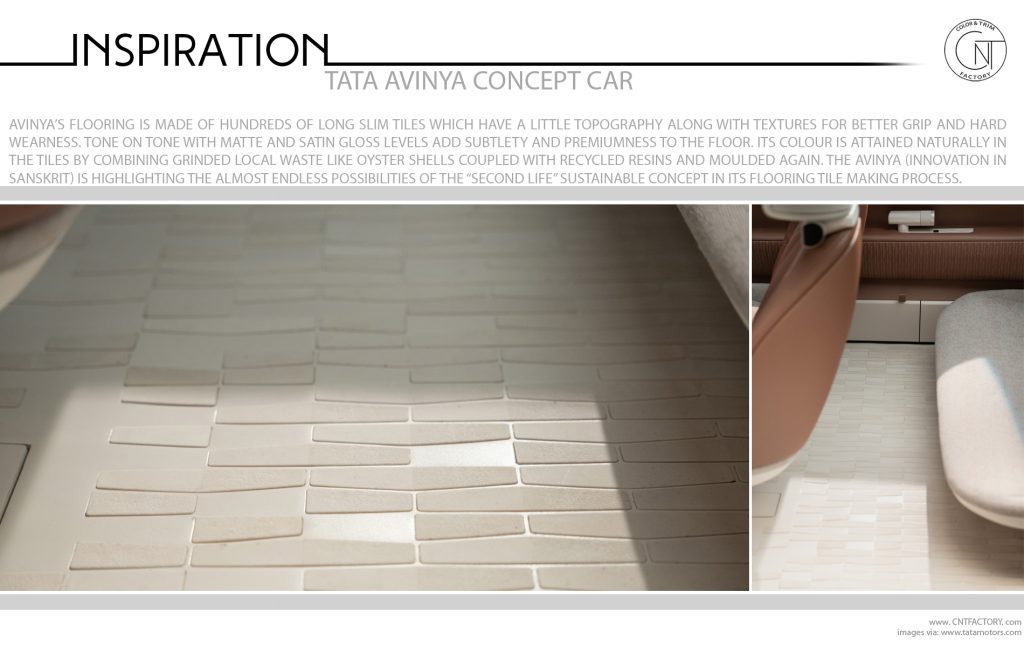 Avinya's flooring is made of hundreds of long slim tiles which have a little topography along with textures for better grip and hard weariness. tone on tone with matte and satin gloss levels add subtlety and premium-ness to the floor. its color is attained naturally in the tiles by combining grinded local waste like oyster shells coupled with recycled resins and moulded again. The Avinya (innovation in Sanskrit) is highlighting the almost endless possibilities of the "second life" sustainable concept in its flooring tile making process.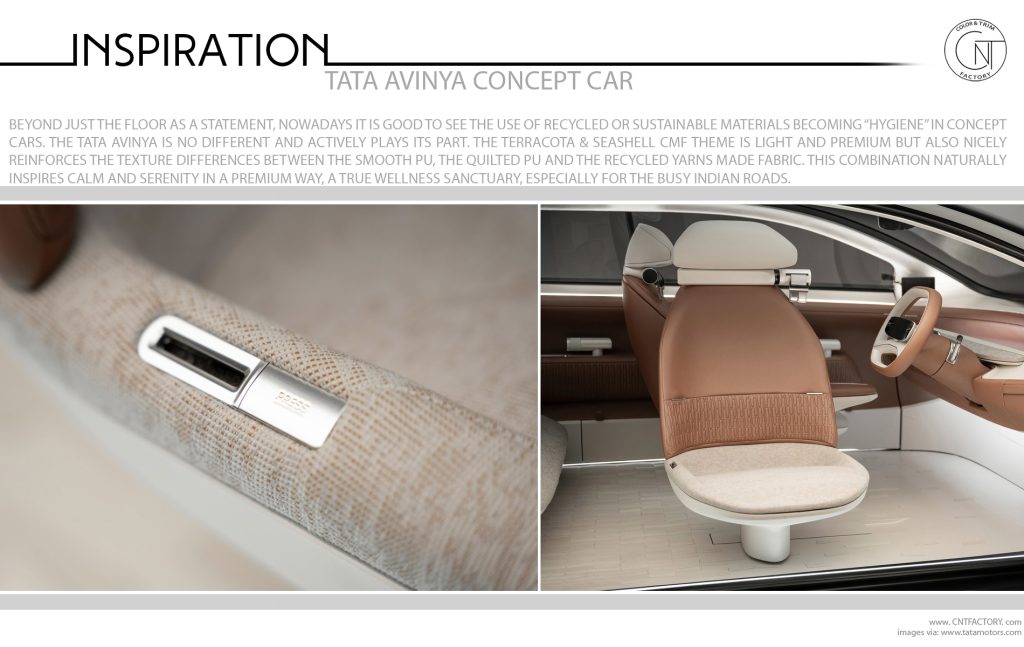 Beyond just the floor as a statement, Nowadays it is good to see the use of recycled or sustainable materials becoming "hygiene" in concept cars. The Tata Avinya is no different and actively plays its part. The terracotta & seashell CMF theme is light and premium but also nicely reinforces the texture differences between the smooth PU, the quilted PU and the recycled yarns made fabric. This combination naturally inspires calm and serenity in a premium way, a true wellness sanctuary, especially for the busy Indian roads.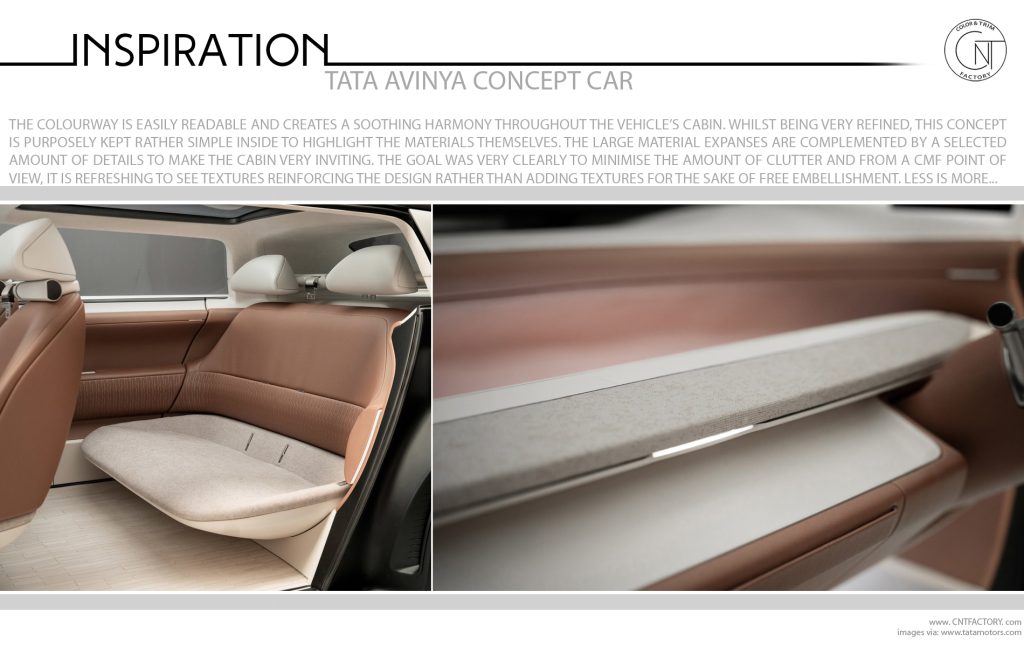 The color-way is easily readable and creates a soothing harmony throughout the vehicle's cabin. whilst being very refined, this concept is purposely kept rather simple inside to highlight the materials themselves. The large material expanses are complemented by a selected amount of details to make the cabin very inviting. The goal was very clearly to minimize the amount of clutter and from a CMF point of view, it is refreshing to see textures reinforcing the design rather than adding textures for the sake of free embellishment. Less is more.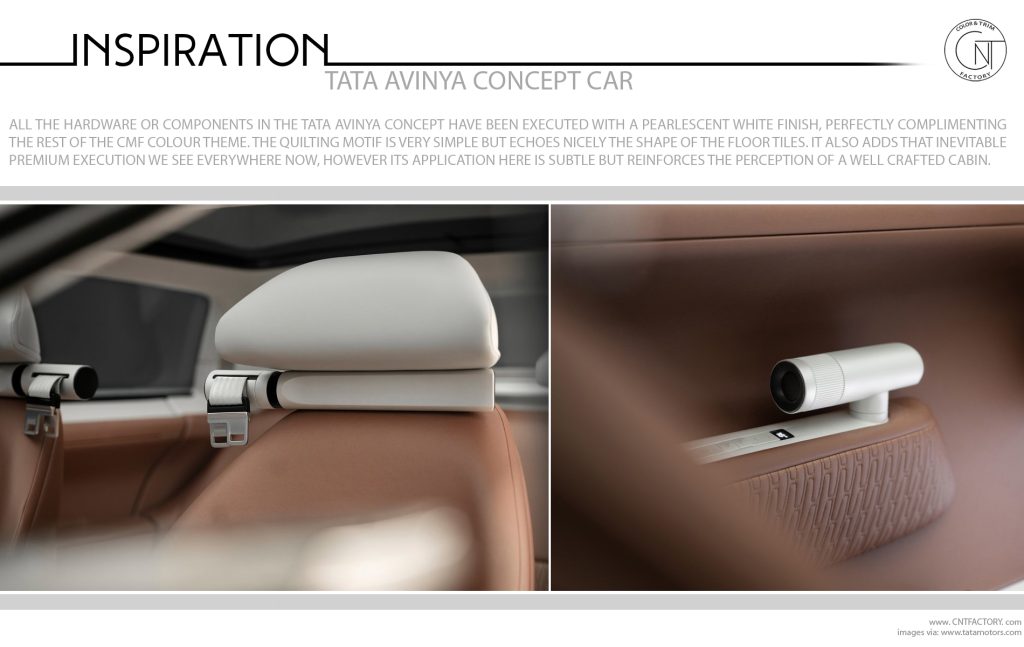 All the hardware or components in the TATA Avinya concept have been executed with a pearlescent white finish, perfectlY complimenting the rest of the CMF color theme. the quilting motif is very simple but echoes nicely the shape of the floor tiles. It also adds that inevitable premium execution we see everywhere now, however its application here is subtle but reinforces the perception of a well crafted cabin.