Related Post: High Definition 3D Design / 3D Printed Titanium / Woven Details
Under Armour was tasked with developing the spacewear system for the world's first commercial spaceline. But going to space presents an entirely new challenge, so a dedicated team at Under Armour has been working in collaboration with the team at Virgin Galactic to deliver a spacewear system that is safe, functional and comfortable, putting its own twist on classic spacesuit and footwear to mold the way the next generation of space travelers will dress. UA engineered utilizing their key technologies that will define the future of spacewear and puts them at the forefront of this history-making event.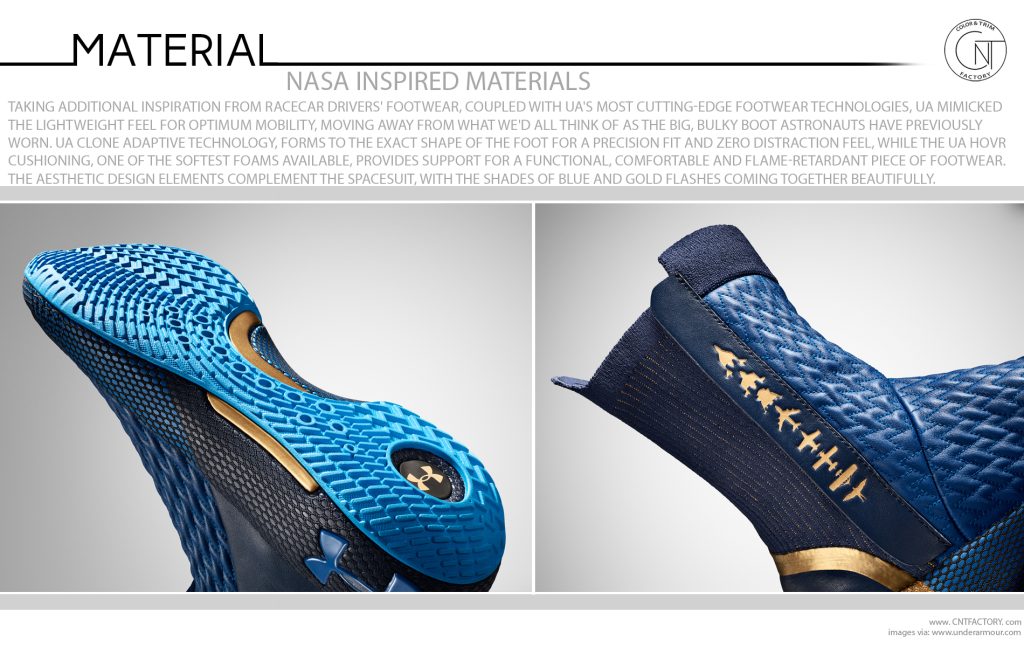 Taking additional inspiration from racecar drivers' footwear, coupled with UA's most cutting-edge footwear technologies, UA mimicked the lightweight feel for optimum mobility, moving away from what we'd all think of as the big, bulky boot astronauts have previously worn. UA Clone adaptive technology, also utilized in the spacesuit, forms to the exact shape of the foot for a precision fit and zero-distraction feel, while the UA HOVR cushioning, one of the softest foams available, provides support for a functional, comfortable and flame-retardant piece of footwear. The aesthetic design elements complement the spacesuit, with the shades of blue and gold flashes coming together beautifully.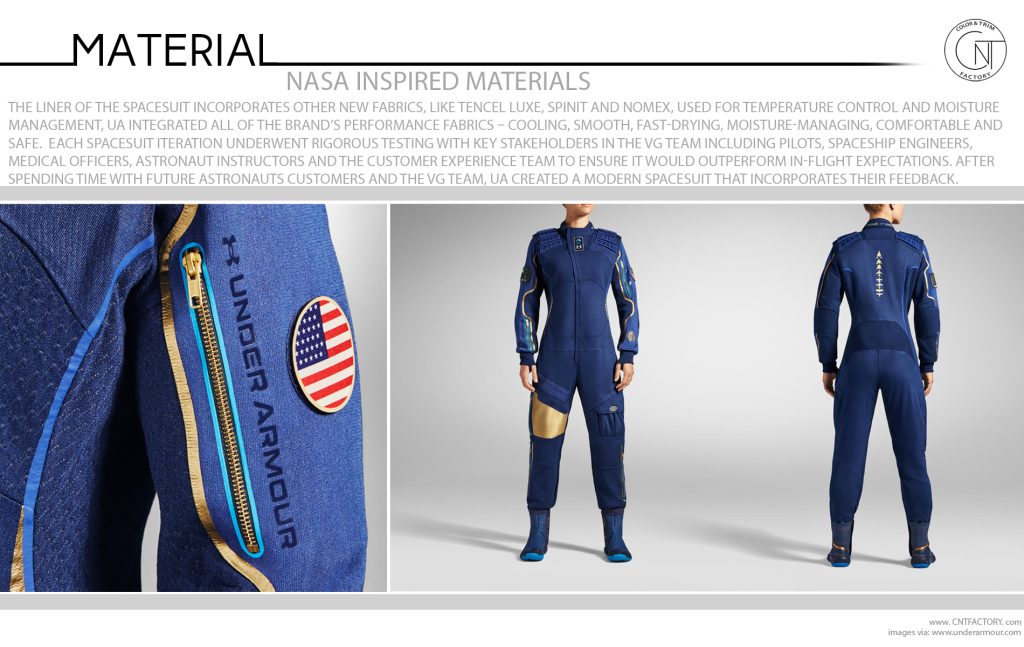 The UA | VG Base Layer acts as a second skin to the body, retrofitting Under Armour's UA RUSH technology will enhance performance and blood flow during the high and zero G portions of flight. The development process of UA Intelliknit is highly efficient and creates no material waste in the process – a testament to UA and Virgin Galactic's shared vision for a better, sustainable future. The Virgin Galactic flight DNA symbols are embedded along the spine, symbolizing the unity of the suit with the mission. UA's HOVR cushioning is also incorporated into the shoulder pads and neck area, which are high impact zones during the high G portions of flight.
The liner of the spacesuit incorporates other new fabrics, like Tencel Luxe, SpinIt and Nomex, used for temperature control and moisture management, as Future Astronauts may experience a spectrum of temperatures throughout their journey. UA integrated all of the brand's performance fabrics – cooling, smooth, fast-drying, moisture-managing, comfortable and safe – to ensure the Future Astronaut has the most comfortable experience possible. Each spacesuit iteration underwent rigorous testing with key stakeholders in the VG team including pilots, spaceship engineers, medical officers, astronaut instructors and the customer experience team to ensure it would outperform in-flight expectations. After spending time with Future Astronauts customers and the VG team, UA created a modern spacesuit that incorporates their feedback.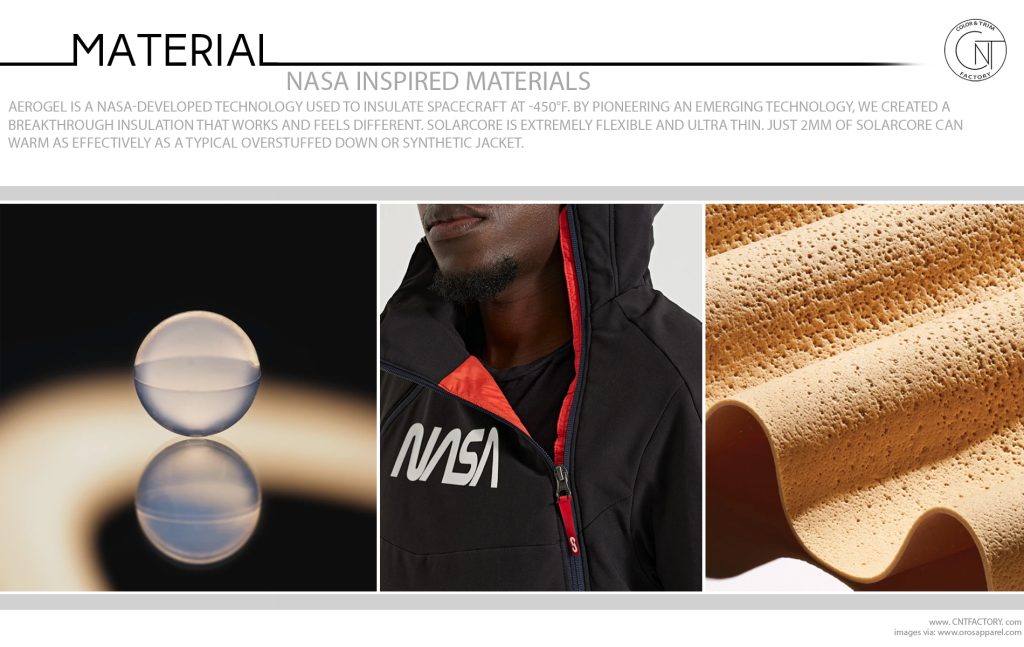 Aerogel is a NASA-developed technology used to insulate spacecraft at -450°F. By pioneering an emerging technology, we created a breakthrough insulation that works and feels different. SOLARCORE is extremely flexible and ultra thin. Just 2mm of SOLARCORE can warm as effectively as a typical overstuffed down or synthetic jacket.