Related Post: Sea Me – Sea Algae Yarn / Sustainable Ocean Materials / Zebra Glass
Infinited Fiber Company (IFC), which produces cellulosic fibers from textile waste, has added to its list of brand partners with a new raft of investment from sportswear giant Adidas, H&M, Wrangler and Patagonia. By partnering with companies like Infinited fashion companies are able to build a circularity partnership that not only recycles the products of the past but builds a circularity plan for the products of the future.
Infinna™ is a virgin-quality regenerated textile fibre with the soft and natural look and feel of cotton. It is created from cotton-rich textile waste that is broken down at the molecular level and reborn as new fibers. Because it's made of cellulose – the building block of all plants – Infinna™ is biodegradable and contains no micro-plastics. Clothes made with it can be recycled again in the same process together with other textile waste.
Born from waste and fully circular. Textile-to-textile fiber regeneration is now a reality. Clothes and textiles made with our regenerated fibers can be recycled with other textile waste and reborn again as Infinna™.
An alternative to virgin cotton. A premium textile fiber that's soft and versatile like cotton and eliminates the need to grow new materials by capturing the value of what's already been produced. It's created out of cellulose, which is a building block of all plants. Anything else that's in the feedstock is cleaned out in the process.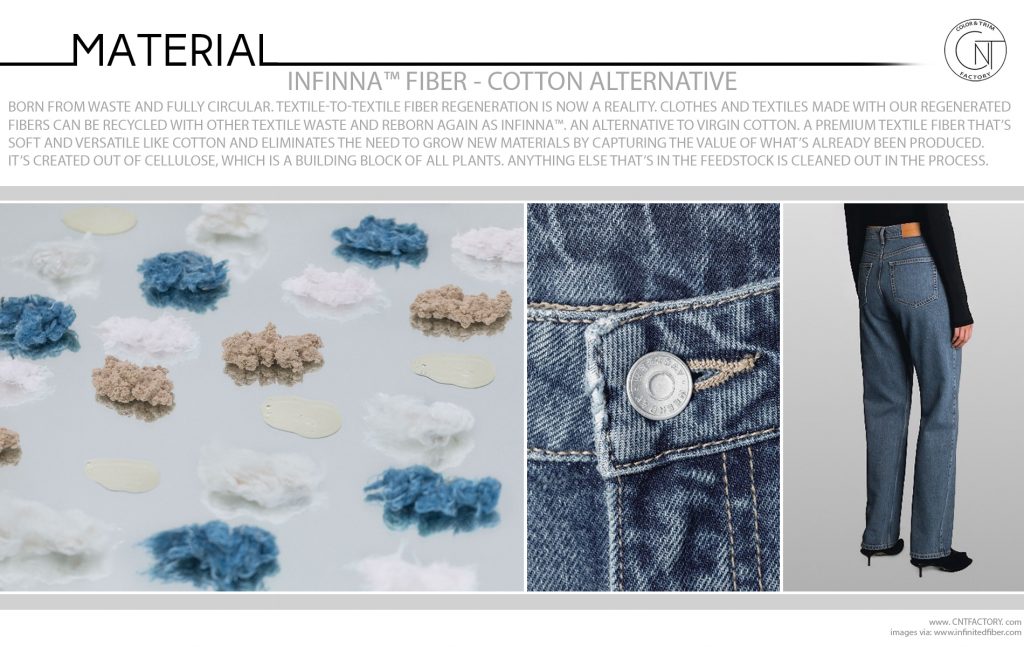 Infinna™ has the natural look and feel of cotton, plus unique properties that make it ideal for use in a range of fabrics – from soft single jersey and French terry to denim, shirting fabric and beyond. Made from cellulose-rich waste like discarded textiles, used cardboard or even rice straw, Infinna™ is a new premium cellulose fiber that works wonderfully on its own, and also blends beautifully with fibers like organic cotton and viscose.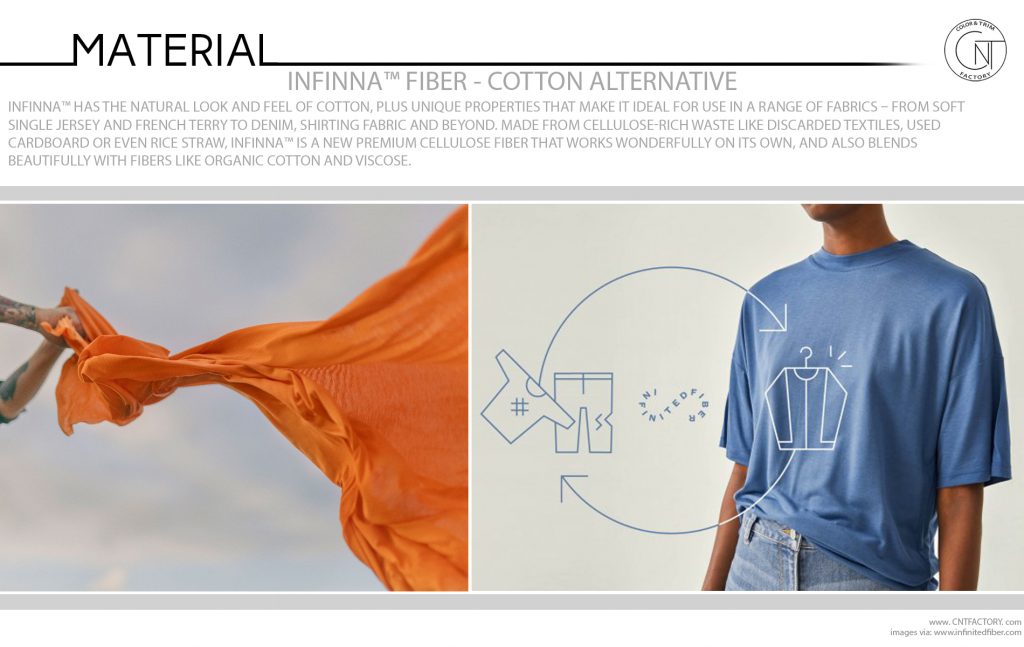 Infinited Fiber Company was born out of the desire to solve some of the biggest challenges in the textile industry – mountains of waste, limited natural resources, and consumers calling for more sustainable choices. Company's dream is a future where the clothes we wear and all the products we use are made in balance with nature. Where renewing what already exists is more valuable than producing what doesn't.