Related Post: MYLO Mushroom Leather / Leather Gradient / 3D Leather
A notable and elegant optional accessory introduced for the Bentayga EWB is the Bentley Diamond Illumination. The illumination effect is achieved using LEDs (12 on each of the front doors, 22 on each of the rear doors) that emit light through small perforations 1 mm in diameter in the leather trim on the door panels. The intensity and color of the illumination through the trim can be controlled by the customer through the infotainment system and Touch Screen Remote. The feature is linked with the mood lighting to ensure consistent color and intensity of light throughout the car.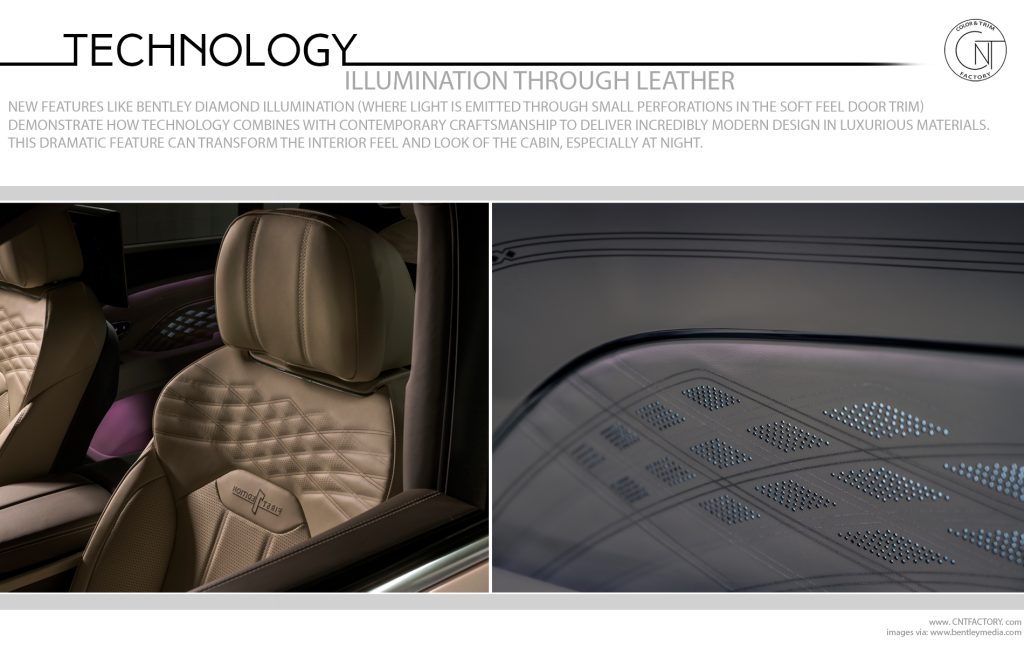 New features like Bentley Diamond Illumination (where light is emitted through small perforations in the soft feel door trim) demonstrate how technology combines with contemporary craftsmanship to deliver incredibly modern design in luxurious materials.This dramatic feature can transform the interior feel and look of the cabin, especially at night.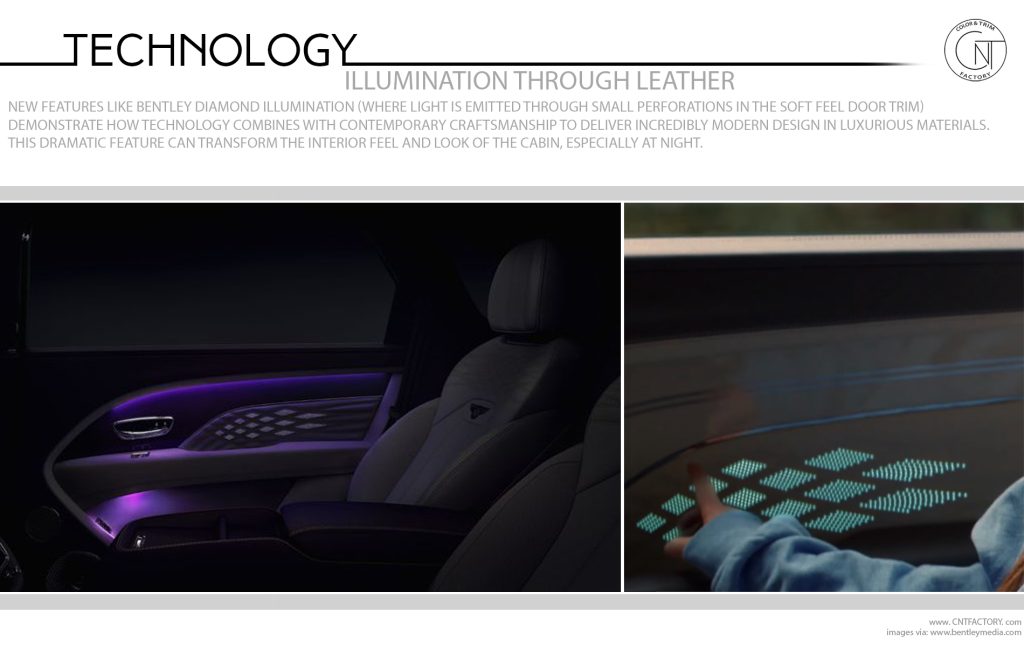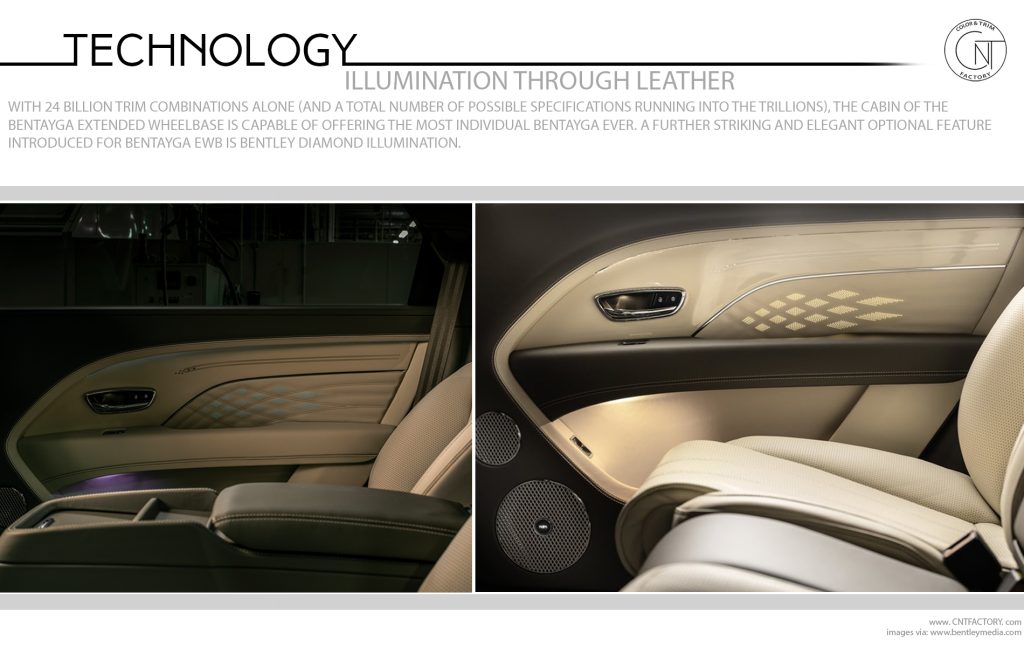 With 24 billion trim combinations alone (and a total number of possible specifications running into the trillions), the cabin of the Bentayga Extended Wheelbase is capable of offering the most individual Bentayga ever. A further striking and elegant optional feature introduced for Bentayga EWB is Bentley Diamond Illumination.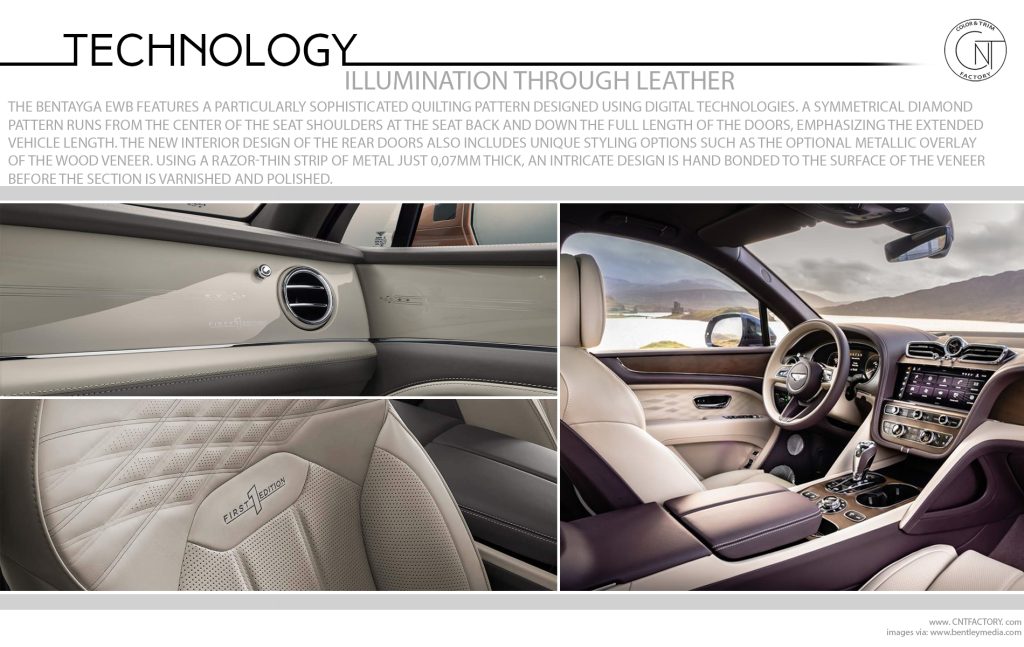 The Bentayga EWB features a particularly sophisticated quilting pattern designed using digital technologies. A symmetrical diamond pattern runs from the center of the seat shoulders at the seat back and down the full length of the doors, emphasizing the extended vehicle length. The new interior design of the rear doors also includes unique styling options such as the optional metallic overlay of the wood veneer. Using a razor-thin strip of metal just 0,07mm thick, an intricate design is hand bonded to the surface of the veneer before the section is varnished and polished.