Related Post: Maison & Objet Paris
Iris Nijenhuis is an Amsterdam based designer with a passion for laser cutting and a wide interest in experimental shapes and structures. By experimenting with laser cutting she developed a technique in which the fabric is cut into small puzzle pieces that form the basis of the design process. By connecting the puzzle pieces together manually, inspiring shapes and structures are created that can form various products. The tiny non-leather puzzle pieces can be digitally placed on the laser bed very efficiently, so there is hardly any waste.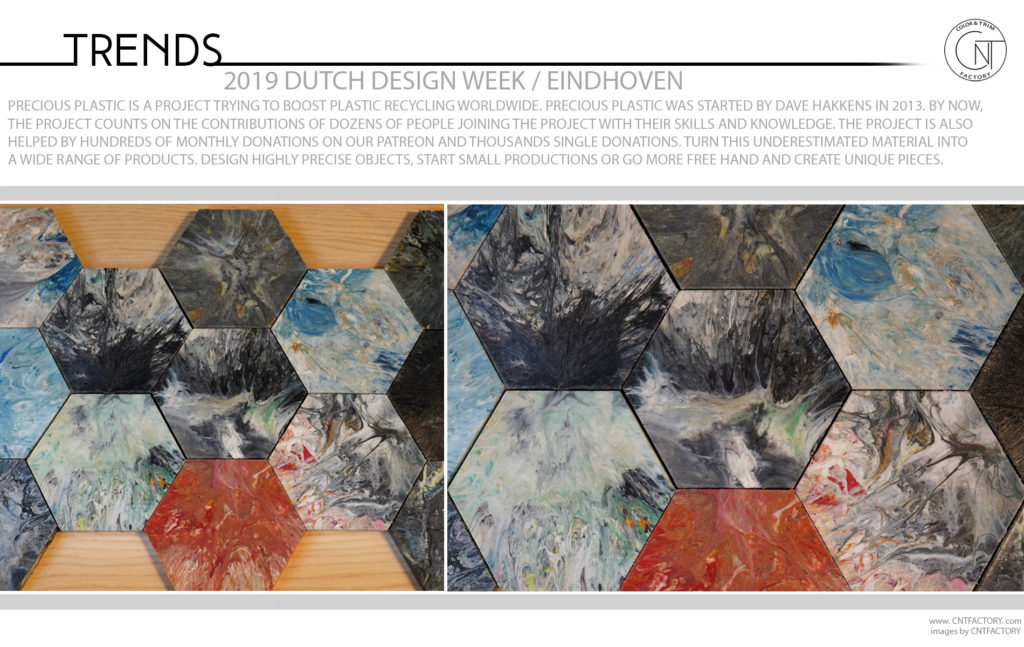 Precious Plastic is a project trying to boost plastic recycling worldwide. Precious Plastic was started by Dave Hakkens in 2013. By now, the project counts on the contributions of dozens of people joining the project with their skills and knowledge. The project is also helped by hundreds of monthly donations on our Patreon and thousands single donations. Turn this underestimated material into a wide range of products. Design highly precise objects, start small productions or go more free hand and create unique pieces.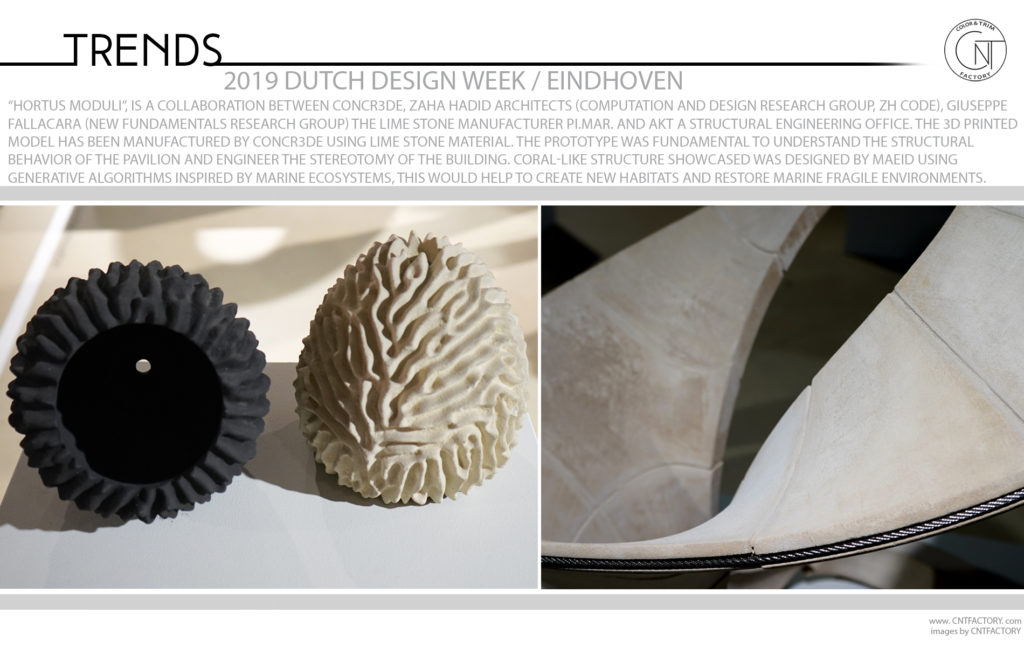 "Hortus Moduli", is a collaboration between CONCR3DE, Zaha Hadid Architects (Computation and Design Research Group, ZH CODE), Giuseppe Fallacara (New Fundamentals Research Group) the lime stone manufacturer Pi.Mar. and AKT a structural engineering office, the project has been developed for the Lithic Garden exhibition at Marmomac 2019, Verona. The project investigates the design of performative shell structures working predominantly in compression and re-interpret historical methods of stone fabrication and assembly seen the south of Italy.
The 3D printed model has been manufactured by CONCR3DE using lime stone material. The prototype was fundamental to understand the structural behavior of the pavilion and engineer the stereotomy of the building. Coral-like structure showcased was designed by MAEID using generative algorithms inspired by marine ecosystems, the project would help to create new habitats and restore marine fragile environments.
"In Tension" designed by Megan McGlynn & material experts from CHEMARTS lab and workshops at the Aalto University. This material experimentation project focuses on shrinkage as an intrinsic quality of drying micro-fibrillar cellulose (MFC). Encasing geometric tessellations between layers of MFC creates tension in specific directions and produces self-forming curvatures. The encased shapes are 3D printed biodegradable plastic, PLA. The tests include many different patterns, sizes, and drying tempera-tures. Many of the outcomes are surprising in their strength and peculiarity.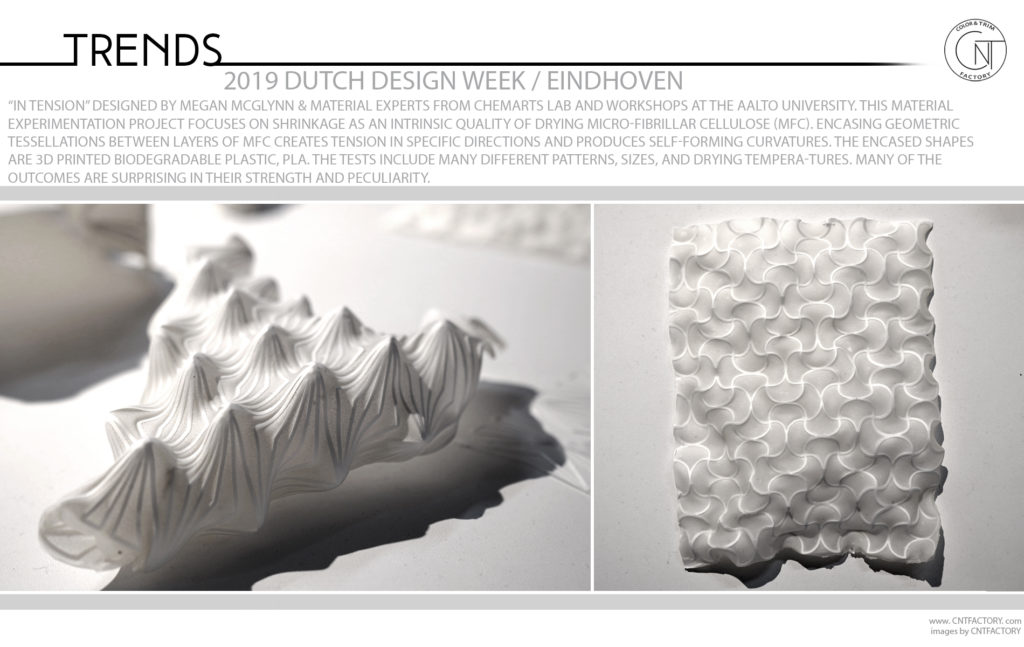 There is an overwhelming abundance of waste wood, and the area of real wild forest is still dwindling. New life for old wood. Discarded wood is still good quality material – often even of better quality than 'fresh' wood- so it deserves a new life. Working with recycled wood demands a different approach to design: you have to make do with what is available, and often you encounter, while working, little 'surprises' that ask for a flexible attitude and playfullness – Sam Berghuis Vormgeving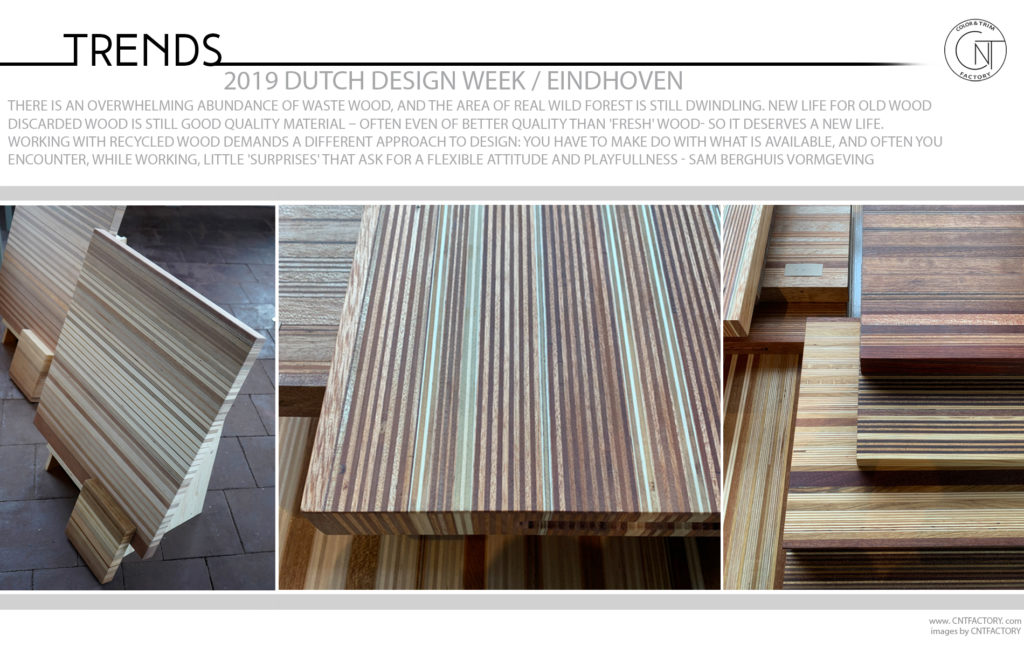 Comfort Zones by Maria Wolff Metternich explores both physical and emotional comfort / discomfort, experienced by the human body. A variety of Comfort Zones is presented. All deal with the delicate relationship between filling material and cover, in which knitted structures and materials play a central role in order to create comfort. The elasticity of the knit is challenged when creating volume, and emphasizes the idea that comfort is elastic in material, physical way, as well as in emotions. The potential of the knit serves as a cover and decorative element. But most importantly, it gives the possibility to the textile to create its own filling, and opens up to furniture design.