Related Posts: Adidas x Parley / Spider Silk / Recycled Plastic by Ecobirdy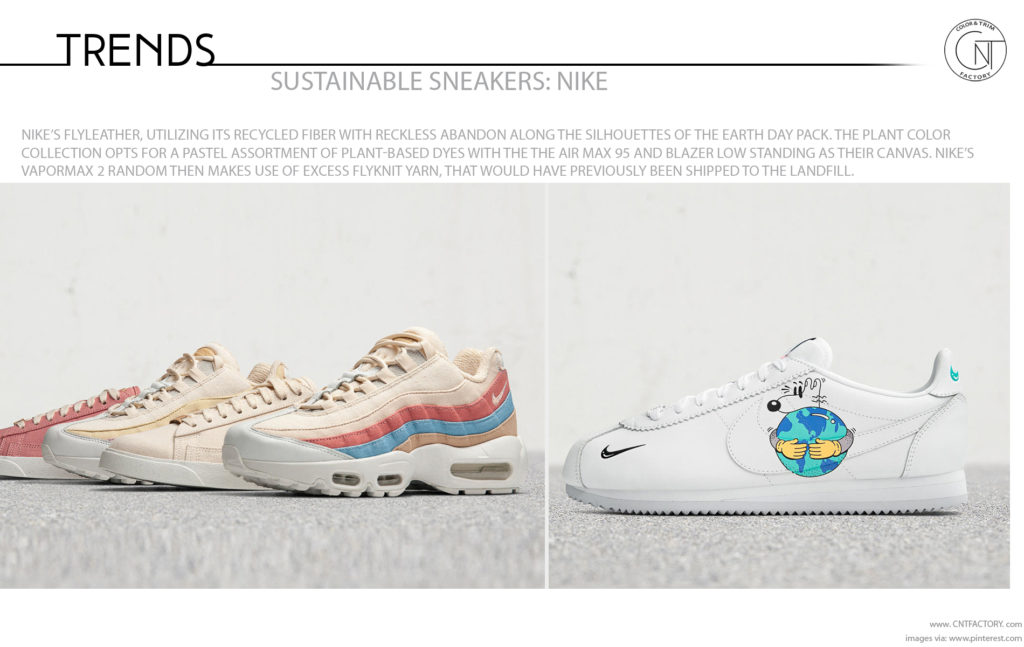 Inspired by alternative ways to make color, the Nike Plant Color Collection, featuring the Air Max 95 and the Blazer Low, uses plant-based dye.
Nike Flyleather is a new super material — made with at least 50 percent recycled natural leather fiber — that has the potential to be as game-changing as Nike Flyknit. Nike Flyleather was born out of a challenge to evolve leather into the performance material it once was—before the invention of advanced performance materials like engineered mesh and Flyknit. The key was to do so while still preserving the things people love about leather: the look, feel and even the smell.
Another crucial factor was the desire to reduce the environmental footprint associated with leather manufacturing, which not only uses a lot of energy and chemicals, but also results in a great deal of leftover scrap material. The mission became not only to invent a better version of leather, but also to reinvent the material production process to be more sustainable.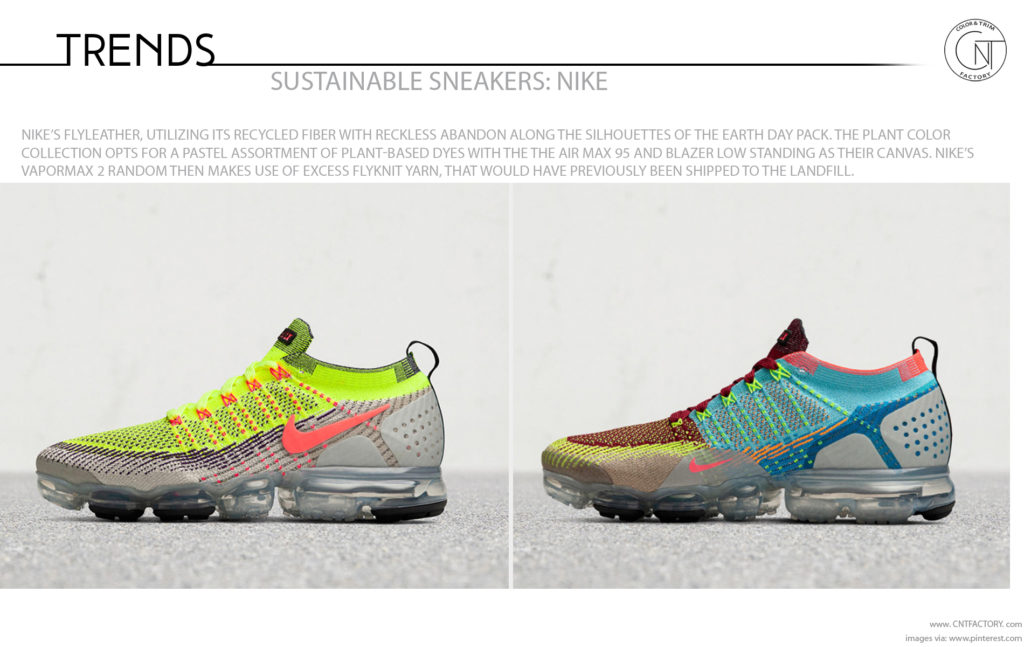 HOW ITS MADE
During a typical leather manufacturing process, scrap pieces are discarded and often end up in a landfill. Flyleather is composed of that discarded leather scrap from the tannery floor. The scraps are combined with synthetic fibers and a fabric infrastructure via a hydro process with a force that's so strong, it fuses everything into one material. The material then goes through a finishing process, which can include things like pigmentation, and is put on a roll to be cut.
WHAT IT LOOKS AND FEELS LIKE
Picture premium leather. Touch premium leather. Flyleather looks and feels just like that: premium leather. "Nike Flyleather completely mimics athletic, pigmented full-grain leathers in everything from fit to touch," says Tony Bignell, Nike VP of Footwear Innovation. "And unlike traditional leathers, Flyleather can be produced with a consistent grade across a broader range of product."
WHY IT'S SO SUSTAINABLE
For Nike, leather is featured across many iconic footwear styles — but it has the second-highest environmental impact on the company's carbon emissions and water usage. Flyleather can change that. Here are the top three reasons why it's Nike's most sustainable leather material ever:
Creating it uses less water and has a lower carbon footprint than traditional leather manufacturing
Nike Flyleather is lighter and more durable than traditional leather (based on abrasion testing)
Because Nike Flyleather is produced on a roll, it improves cutting efficiency and creates less waste than traditional cut-and-sew methods for full-grain leather