Related Post: "The Gallery" by Rolls-Royce Phantom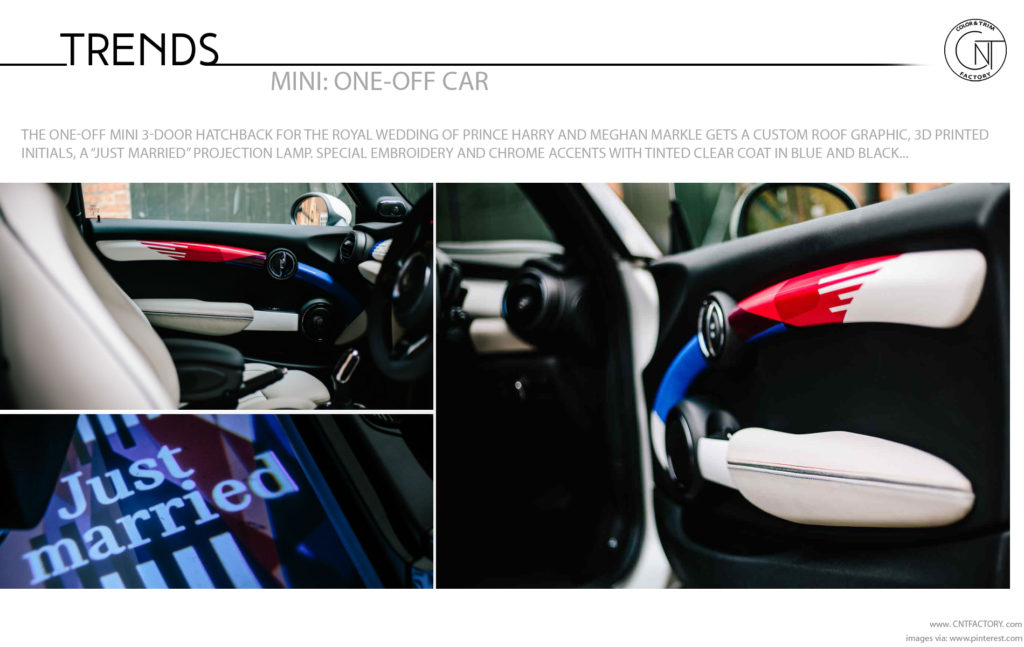 The MINI Design team has created a one-off MINI Hatch for the occasion. Its specially designed roof graphic combines with 3D-printed personalized interior and exterior details as well as special embroidery to make this a MINI like no other.
With Crystal White exteriors, the car features a silver-blue accent strip that wraps around it's body. The regular features in chrome, such as the frame of the black honey-comb patterned grill, the door handles and the surrounds of the rear lights and headlights are topped off with a blue-black tinted coat. The graphically painted roof stands out from the exterior. Red, blue and white have been layered in an edgy layout which combines the Union Jack and the Stars & Stripes, symbolizing the alliance through matrimony of the couple's homelands. The stripes from the roof extend onto the bonnet, lending a harmony to the design.
Apart from the unmissable roof, this special Mini has many minute details. The rear lights have the pattern of the Union Jack. The Mini's scuttles around the side-turn signal indicator have been 3D printed and embellished with the initials M and H, alongside a heart and rings. On opening the door, the door light projects "Just Married" onto the ground and the scuff plates says "Mini Loves You".
A 3D printed trim strip on the dashboard bears the first names of the couple, the date of the wedding and best wishes from the Mini team. The trim strips of the door and the embroidery on the head restraint mirror the graphics of the roof. The vanity mirror, features a special message of love. The satellite grey leather of the interiors accentuate these elements.