Michelin 3D Printed Rubber Tire is made of rubber compounds derived from organic, recyclable materials. The resin, for instance, is made from orange zest instead of petroleum. Michelin also cited molasses as another natural material that can be used to create synthetic elastomers. Other examples of alternative ingredients include hay, paper and metal.
The tread design is optimized to reduce its depth, which in turn reduces its thickness and make it more efficient material-wise. Since the Vision concept is airless it will never blowout or explode, and it uses an interior architecture to support the vehicle while also providing comfort and safety, according to Michelin. Perhaps the most groundbreaking aspect of the Vision concept is that it "recharges," as Michelin describes the ability of the tread to be changed to adapt to various road conditions, climates and driving styles.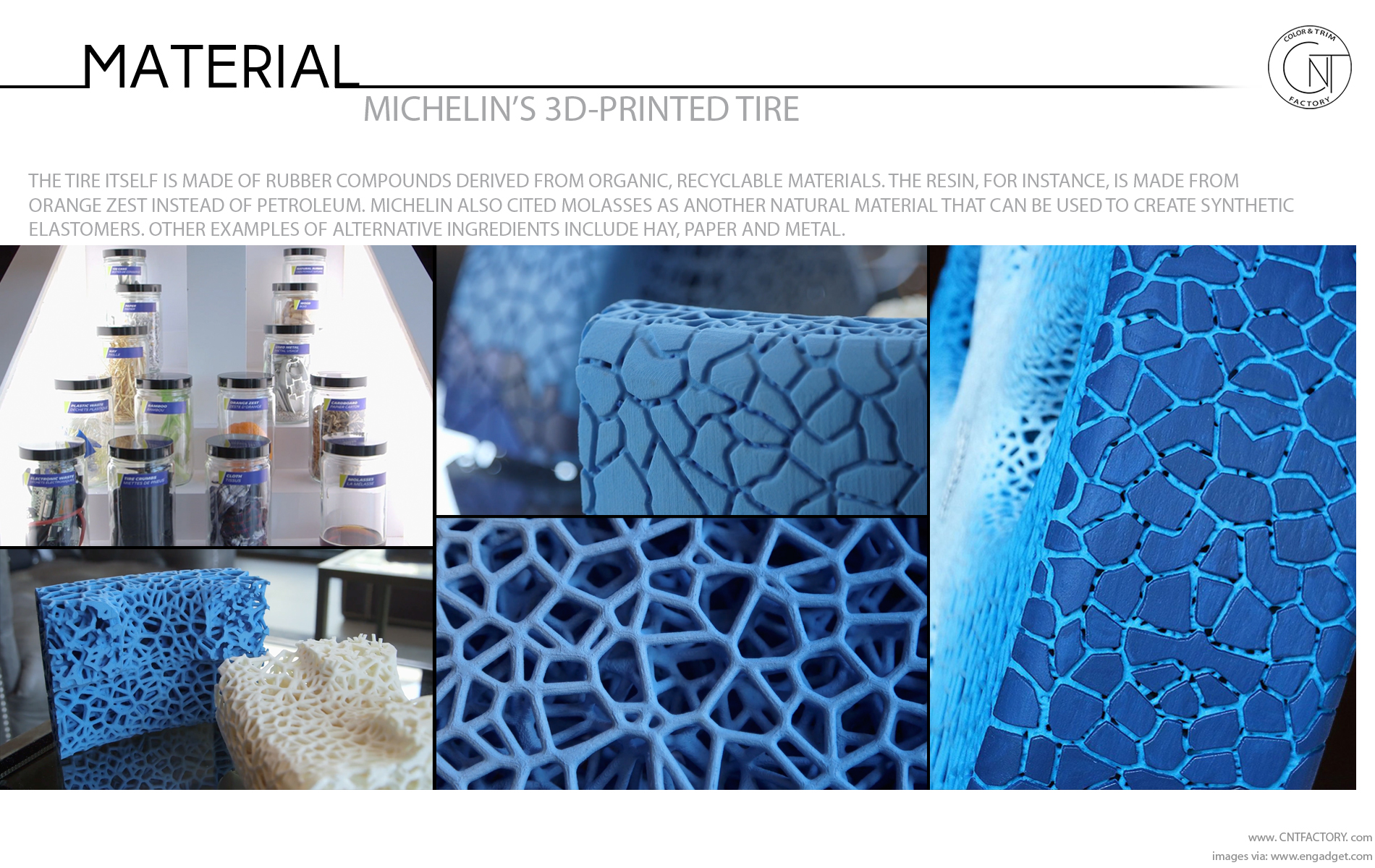 An Organic Tire
The materials used, which were both bio-sourced and biodegradable, minimized the tire's environmental footprint.
A 3D Printed Tire
VISION is the world's first tire that recharges. With the aid of 3D printers, it is possible to use just the right amount of rubber on the tire and thus extend its life depending on needs, thereby ensuring mobility in all situations. The tread design is optimized and its depth is reduced in order to reduce its thickness and make the tire more efficient in terms of materials. The tread design is adapted, in accordance with the user's mobility needs, with a triple concern for comfort, safety and sustainability.
An Airless Tire
VISION does away with air, relying instead on an interior architecture capable of supporting the vehicle, ensuring the solidity of the wheel and thus guaranteeing both comfort and safety. VISION can neither explode nor blowout.
A Connected Tire
Equipped with sensors, VISION provides real time information about its condition. What's more, thanks to Michelin's mobile application, it's possible to simply make an appointment to change the tire's destination, depending on the user's needs.
https://youtu.be/YTzxmSS77b8