https://www.youtube.com/watch?v=bitDSNKwBV4
Color is often the first thing we notice about something and it has the ability to alter our mood, inspire us, frighten or excite says Sandra Boberg Color and Trim Manager Spotlight – Infiniti Design London.
Color forms an incredibly important part of the look of a car, says Boberg. Bright and playful colors are more suited to small city cars but
not SUVs, while more serious greys, silvers and blacks suit executive cars.
FUTURE PREDICTIONS
Advances in technology and increasing customer involvement are both something that Boberg thinks will be the future of car design.
She believes technological advances, not only for paint suppliers but also how paint is applied, will enable Infiniti to provide its customers with
more choices in future. "Customers are looking more and more to create products close to their personality.
They're not just buying a car, they're buying an experience, making the statement you want to make. "So putting your soul into the car is going to be more important and become part of the car-buying experience. "Then the car no longer feels like an object, an industrial vehicle, it's a part of you, like a close friend."
Since July 2014, Sandra Boberg has held the position of Color Manager in the color studio at Infiniti Design London, based in the vibrant area of Paddington, and is responsible for exterior and interior colors as well as materials used on Infiniti vehicles from concept to final production.
The most recent projects include the Infiniti Q30 and QX30, where her work heavily influenced delivery of the color palette from the original concept, working closely with engineering and production teams to ensure uniformity of the grades and colors throughout the vehicle to production reality.
Boberg has a wealth of experience, ranging from working at Poltrana Frau in Turin, within its 'Interiors in Motion' Division for Automotive and Transport, to Pininfarina, working on some well-known projects for Ferrari, Rolls-Royce, Maserati and Alfa Romeo. Her experience also involves designing some non-automotive projects, such as watches, perfume bottles, airplanes, hotel interiors and leather goods.
Born in Sweden, Boberg has had an international career, achieving a bachelor's degree in Italy, a master's degree back in her home country of Sweden and an MBA in major marketing in France. From there, she traveled back to Italy to take an internship with Alfa Romeo and then on to another with NASA in Houston, Texas, working on projects involving future missions to space and Mars.
Utilizing her experience in colors and materials in her 'out of work' time, Boberg enjoys restoring old furniture to not only change the look of them but to also enjoy the history that they can bring.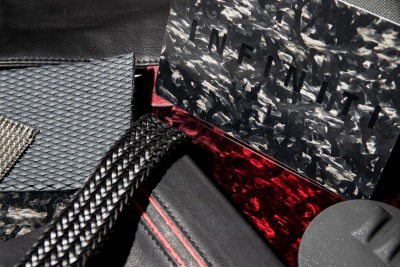 Save
Save
Save
Save
Save
Save
Save